Roasted Carrot and Avocado Salad
June 28, 2014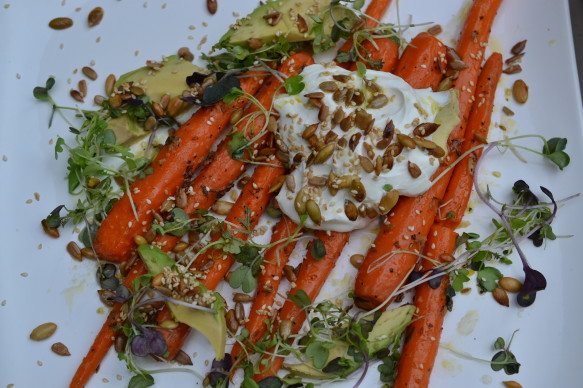 One of my most popular posts to date is the
Marinated Mozzarella
appetizer, inspired by my favorite blog 
Lottie and Doof.
 I returned to this award-winning site in an anticipation of a bumper crop of carrots, (fingers crossed Sil and Courtney). For this recipe I par boiled carrots earlier in the day which made for a quick side to a grilled pork tenderloin. Not only is this dish a show stopper, the flavor profile of cumin, thyme, garlic and a hint of citrus work well with the carrots. The dollop of sour cream will surprise you and there are lots of alternatives for this tasty topper.   Check out the Lottie and Doof site where they highlight this recipe (and the beautiful Public House Hotel) that appears on the Pump Room Menu.
Roast Carrot and Avocado Salad 
Serves 4                                                                       
Adapted from Lottie and Doof, and ABC Kitchen
1.5 pounds medium carrots, peeled
2 teaspoons cumin seeds
2 garlic cloves
1 tablespoon fresh thyme leaves
1/2-1 teaspoon red chile flakes, to taste
Kosher salt
Freshly ground black pepper
2 tablespoon red wine vinegar
¼ cup plus 2 tablespoons extra-virgin olive oil
1 orange, halved
2 lemons, halved
1 avocado, halved, pitted, peeled and cut into thin wedges
1/3 cup sour cream  (or Greek yogurt)
micro greens
¼ cup sunflower seeds, toasted
¼ cup raw pumpkin seeds, toasted
¼ cup white sesame seeds, toasted
Preheat oven to 375 degrees.
Bring a large pot of water to a boil. Add the carrots and cook until just barely tender, about 10 minutes.
With a mortar and pestle, pound the garlic, cumin, thyme, chili, 1½ tsp. salt, and ¾ tsp. pepper until crushed and pasty or in a blender.
Add the vinegar and ¼ c. of the olive oil and continue pounding until well-mixed. (Or a food processor until pasty.)
Drain carrots and arrange in a single layer in a medium roasting pan. Spoon the cumin mixture over, toss to coat. Cut the whole orange in half. Arrange the 2 orange halves and 2 of the lemon halves over the carrots, cut-side down. Roast for 25 minutes or until carrots are golden brown.
Carefully transfer the carrots to a platter. When cool enough to handle, squeeze 2 tablespoons  juice each from the roasted orange and lemon into a small bowl. Squeeze in 3 tablespoons juice from the remaining uncooked lemon halves. Whisk in the remaining 2 tablespoons oil to emulsify. Season with salt and pepper and drizzle over the carrots to your liking,
reserving
some for the next step. Arrange the carrots on a serving platter. Arrange the avocado and sprouts on top. Drizzle with reserved sauce. Dollop sour cream or yogurt over the top, then sprinkle with toasted seeds. Serve.