Steak Salad with Creamy Horseradish Dressing
July 13, 2014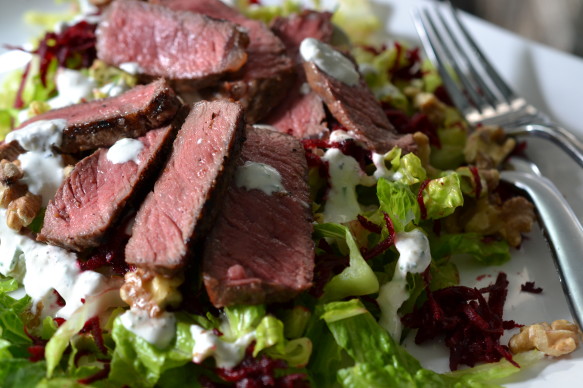 Dinner in 15 minutes! I think you will find the combination of fresh greens and a hearty flavorful steak spiced with an earthy dressing, the perfect weeknight meal. While the steak is cooking, assemble your salad and whip up this easy topping. Make it your own by adding additional ingredients….radishes and cherry tomatoes.
Steak Salad       Adapted from Cooks Illustrated
Serves 4
1 tablespoon vegetable oil
2 (10-12 ounce) boneless strip steaks, 1 inch thick, trimmed
Salt and Pepper
1/4 cup sour cream
2 tablespoons lemon juice
2 tablespoons chopped fresh chives
1 tablespoon prepared horseradish
2 romaine lettuce hearts, torn into bite size pieces
1 beet, trimmed, peeled and grated      (while this is a quick option, I will cook and cube the beets next time I make this…..or pick up a few from the salad bar at my local market!  They have more flavor.)
1/2 cup walnuts, toasted and chopped
Start your grill or heat oil in nonstick skillet over medium-high heat until just smoking. Pat steaks dry with paper towels and season with salt and pepper. Add steaks to the skillet and cook until well browned and meat registers 120 to 125 degrees (medium- rare) 3 to 5 minutes per side. Transfer to cutting board, tent with aluminum foil, let rest for 5 minutes.
Meanwhile, whisk sour cream, lemon juice, chives and horseradish together in large bowl.
Slice steaks thin. Add lettuce, beet, and walnuts and dressing and toss to coat. Season with salt and pepper to taste. Divide salad and slice of steak evenly among plates and serve.