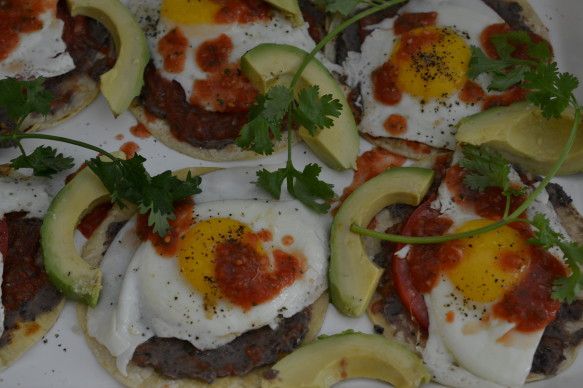 The British Open and a festive breakfast was the start to a Funday Sunday. We decided to invite friends over early to watch golf, enjoy Huevos Rancheros, Bloodies…..and then play a round!!! (O.K. so this meal may have been more successful than my golf game!) Mexican fare is my go-to order for breakfast out, so I wanted to find an easy and delicious recipe for my fav…here it is!! The black bean and salsa components are as simple as adding a few ingredients into a processor. Lightly toast the corn tortillas, fry up your eggs and assemble. Serve with sour cream, guacamole, avocado and a few cilantro sprigs. A platter of watermelon lightly salted, a few lime wedges and cilantro, rounds out your meal.
Huevos Rancheros
Makes 4
3 Tablespoons olive oil, divided
4 corn tortillas
1 cup black beans (from a can, drained and rinsed)
2 clove garlic
2 tsp chili powder
2 tsp ground cumin
1 cup salsa (store-bought or home-made)
4 eggs
2 Tablespoons sour cream or more
Fresh cilantro, for garnish
Avocado, sliced
Salt and freshly ground pepper
In a food processor, add the beans, garlic, cumin, chili powder, a teaspoon of oil (or until desired consistency), salt and pepper. Puree. Transfer to a small sauce pan and set it on a low heat. Heat through. Remove from heat.
Put a skillet over the burner and add a bit of oil. Lightly fry each tortilla until slightly browned and bubbly. (or toast over gas flame) Transfer to a plate.
Add a teaspoon of oil and a little butter to the skillet and crack your eggs. Continue to fry the eggs (medium-low heat) until the whites are set but the yolks are still runny.
In the meantime, spread the bean mixture over each tortilla, followed by the salsa. Then top each with an egg. Dollop with a little more salsa, fresh cilantro sprigs, salt and pepper.
Make ahead: You can make the salsa and bean mixture the day before. Warm up before assembling.
Adapted from  Bev Wiedner