Roasted Green Beans
August 2, 2014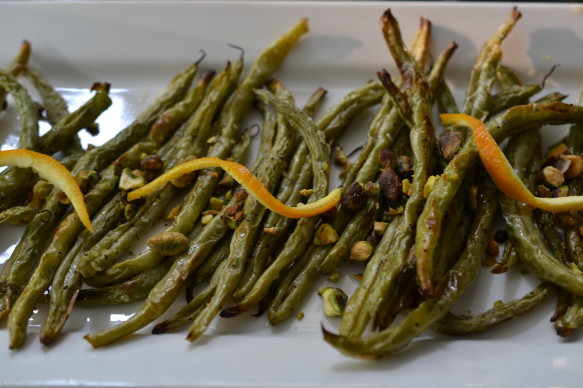 What's your favorite way to eat freshly picked green beans? Mine is raw….. until now. Roasting these summer farm stand faves highlight their sweet flavor. The result turns these beans to a nutty, caramelized, crispy side dish.
Roasted Green Beans
Serves 4-6
2 lbs green beans
1 to 2 tablespoons olive oil (use only enough to lightly coat)
1 teaspoon kosher salt
1 teaspoon fresh cracked pepper
Pistachio nuts, chopped
Orange zest (garnish) and a squeeze of juice to finish
Preheat oven to 425 degrees. Clean, trim, and dry beans. Place beans in a bowl and toss with olive oil (lightly coat). Sprinkle with salt and pepper. Place beans on a rimmed baking sheet. Spread in a single layer. Roast 20-25 minutes, turn after 15 minutes. Cook til brown and desired crispness. Sprinkle with pistachios and squeeze a bit of fresh orange juice. Garnish with orange zest. Serve warm or at room temperature.
The beans really shrivel up so plan on eating more than you might think!!!