Peach Cobbler
August 9, 2014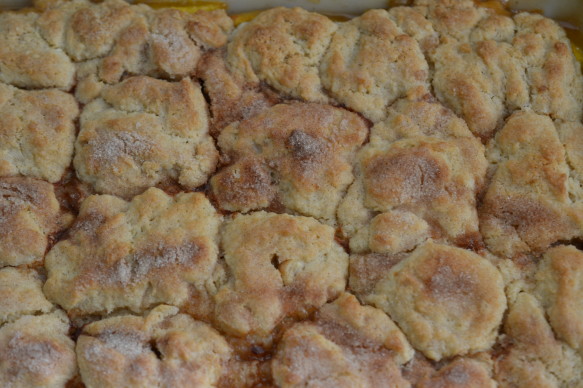 A cobbler is simple. A homey, comfortable ending that typically shows up at a summer BBQ. In the height of your local farmer's market harvest, peaches and our favorite berries are bountiful…perfect for this seasonal favorite. Top the sweet filling with a crisp, yet tender biscuit. As a perfect companion add a scoop of vanilla bourbon ice cream.
Peach Cobbler            Adapted from  Allrecipes
Peach Filling
8 fresh peaches, peeled, pitted and sliced into thin wedges, 8-10 cups
1/4 cup white sugar
1/4 cup brown sugar
1/4 teaspoon cinnamon
1/8 teaspoon nutmeg
1 teaspoon fresh lemon juice
2 teaspoons arrowroot or cornstarch
Topping 
2 cups all-purpose flour
1/2 cup white sugar
1/2 cup brown sugar
2 teaspoon baking powder
1 teaspoon kosher salt
12 tablespoons butter, chilled and cut into pieces
1/2 cup boiling water
Cinnamon Sugar Topping  
1/3 cup white sugar
2 teaspoons cinnamon
Preheat oven to 425 degrees. In a small bowl, combine all the dry ingredients for the peach filling. Stir to combine and then pour into a large 9×13 baking dish. Bake the peach mixture in the preheated oven for 10 minutes.
While the peaches are baking, combine the  dry topping ingredients and whisk to combine. Blend in the chilled butter, using a pastry blender or your fingertips. Stir in the boiling water, just until combined.
Remove the peaches from the oven and drop the topping over them in spoonfuls. (I like to use my smallest cookie scoop to do this.) Sprinkle the cobbler topping with the cinnamon sugar mixture. Bake until the crust is golden and a toothpick inserted into the crust comes out clean, about 28 minutes. Serve warm or at room temperature. Serve with vanilla ice cream or whip cream.
FREEZER DIRECTIONS: The peach filling can be prepared and frozen in advance. Combine the peach filling ingredients in a large ziplock bag. When you are ready to bake the cobbler, thaw in the refrigerator and then pour into the baking dish and proceed with the recipe.