Grilled Veggie Sandwich
August 15, 2014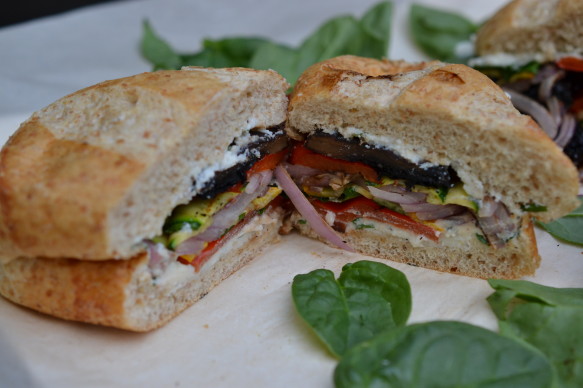 1 cup ricotta cheese
1 tablespoon each of fresh basil, chives and parsley, chopped
1 clove garlic, minced
1 tablespoon extra virgin olive oil plus more for drizzling
kosher salt and freshly ground black pepper
1 Portobello mushroom
Zucchini, sliced lengthwise, as many slices as you want
Yellow squash, sliced lengthwise, as many slices as you want
Eggplant, sliced into rounds
1/2 red onion, peeled and sliced into rounds
1/2 red bell pepper, seeded and sliced in half or quarters
2 teaspoons dried oregano
1 loaf ciabatta bread or other soft bread sliced into 6-inch sections and cut in half
1/2 cup arugula leaves or spinach
These vegetables are a suggestion, be creative.
In a small bowl, combine the ricotta cheese, fresh herbs, garlic clove, 1 tablespoon extra virgin olive oil, kosher salt and freshly ground black pepper and mix until smooth. Set aside.
Oil the grill. Preheat the grill on medium high for 10-15 minutes. Drizzle the vegetables with extra virgin olive oil and season with dried oregano and kosher salt and pepper. Drizzle some additional olive oil on the cut side of roll.
Place the vegetables on the grill and cook for 5 minutes. (Keep a close watch , depending on the veggie…they cook at different times) Flip veggies when they start to soften and grill marks develop. Cook for approximately 4-5 minutes. Toast the roll. Spread the herbed ricotta mixture on the roll slices. Top the bottom roll with layers of grilled vegetables and arugula or spinach, then drizzle with balsamic glaze. Serve warm or at room temperature.
Adapted from  Foodiecrush