Honey-Ginger Chicken With Lime
August 28, 2014
What a perfect entree for a beautiful
Farm to Table
dinner. This lovely evening started with fresh vegetable bruschetta, a puffed prosciutto appetizer and a few raw vegetables with
green goddess dressing
 for dipping. The dinner began with a  
Thomas Keller gazpacho
topped with kernels of sweet caramelized corn, followed by a beautifully presented spinach and caprese salad. The main event was this Ginger Lime Chicken (
thanks Marsha
) over a bed of roasted garden vegetables and orzo. There's an awful lot of flavor in this dish…the tangy lime, the kick of ginger and the aromatic combination of spices. The sauce was delicious with its sweet, tangy notes and was drizzled over the caramelized thighs. The dish pulls together in only 45 minutes (as noted in Q
uick and Easy
Menus,
 Food and Wine /July 2014) which makes it perfect for a weeknight dinner but impressive for entertaining. The evening ended with
Peach Cobbler
topped with Bourbon Vanilla ice cream. Magical!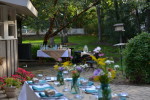 Honey-Ginger Chicken with Lime
Servings 4
2 tablespoons balsamic vinegar
1 tablespoon honey
1/3 cup minced fresh ginger
1 jalapeño, finely chopped
2 teaspoons garam masala
1 1/2 teaspoons ground coriander
1 teaspoon ground cumin
1/2 teaspoon cayenne
1 tablespoon plus 1 teaspoon salt
1 teaspoon cracked black pepper
3 1/2 teaspoons grated lime zest
4 chicken legs, cut into drumsticks and thighs  (I used just thighs)
2 teaspoons sugar
4 tablespoons unsalted butter
2 tablespoons canola oil
2 tablespoons fresh lime juice
Lime wedges, for serving
Preheat the oven to 400°. In a bowl, whisk the vinegar, honey, ginger, jalapeño, garam masala, coriander, cumin, cayenne, salt, pepper and 3 teaspoons of the lime zest. Prick the chicken with a fork, add it to the bowl and toss. In a small bowl, mix the sugar with the remaining lime zest. In a large *ovenproof skillet, melt 2 tablespoons of the butter in the oil over moderately high heat. Add the chicken and cook, turning, until golden, 5 minutes. Sprinkle with the lime sugar and roast for 25 minutes, or until the chicken is cooked (and caramelized). Add the lime juice and the remaining butter to the skillet. Serve the chicken with the pan juices and lime wedges.
*I transferred the chicken to casserole pan and baked (due to the quantity I made). Then de-glaze the pan to create the sauce.