The Original Plum Torte
September 3, 2014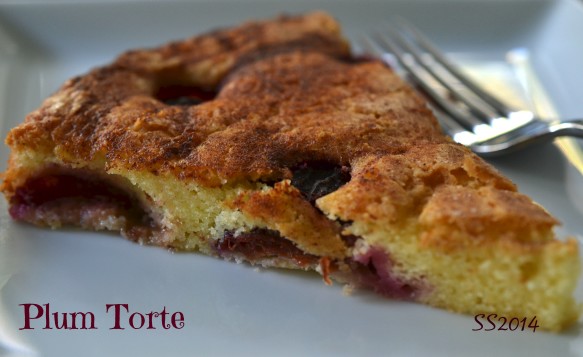 The New York Times published Marian Burros's recipe for this Plum Torte every September from 1983 until 1995…the most famous recipe ever printed in the NYT. It's perfect in its simplicity. Only eight ingredients, all of which, except the Italian plums, are most likely in your kitchen. When this torte cooks with the bittersweet plums, the fruit softens and creates a jammy consistency. These plums, also referred to as prune plums or quetche (in France), only appear for a very short time…September and October. While these egg-shaped, purple skinned plums can be eaten raw they are best cooked. Wait (if you can) til the next day to serve….the torte sets up with all the juices creating a beautifully moist, custard-like cake. This iconic cake freezes well so you may want to think…holidays.

The Original Plum Torte
1 cup all-purpose flour
1 teaspoon baking powder
Large pinch of salt
1 cup granulated sugar plus 1 to 2 tablespoon
1/2 cup (8 tablespoons) unsalted butter, softened
2 large eggs
12 smallish purple Italian purple plums, halved and pitted
2 teaspoons fresh lemon juice
1 teaspoon ground cinnamon
Heat over to 350°. Sift together flour, baking powder and salt in a medium bowl. In a larger bowl, cream butter and sugar together with an electric mixer until fluffy. Add the eggs, one at a time and scraping down the bowl, then the dry ingredients, mixing until just combined.Spoon batter into an ungreased 9-inch springform pan and smooth the top. Arrange the plums, skin side up, all over the batter, covering it. Sprinkle the top with lemon juice, then cinnamon and sugar (mix together). Bake until cake is golden and a toothpick inserted into a center part of the cake comes out free of batter, about 45 to 50 minutes. Cool.
Once cool, leave it covered at room temperature overnight as this cake really is even better on the second day. Or maybe you can't wait….that's OK too.
**This was my second attempt making the torte. Unable to find the small Italian plums, I used 6 large. The result was tasty but the size of the plums did not create as moist of a cake as those little jewels.