Sweet Corn Soup With Toasted Corn Guacamole
September 11, 2014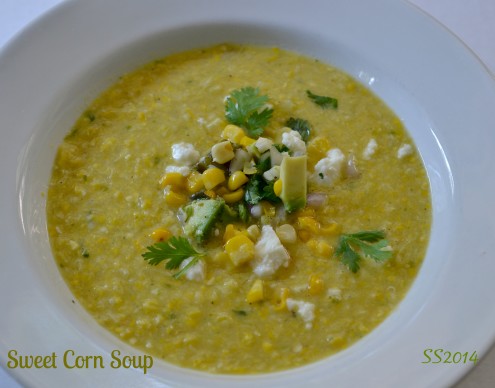 Make this soup! A simple, delicious, fresh corn soup with a touch of southwest flavors. The Avocado Salsa has the perfect mix of sweet and savory, with the poblano's giving it a nice kick. This comfy soup has a creamy texture and is loaded with fiber, antioxidants and minerals. Thanks to Barb, my Canadian girlfriend for the inspiration!
Sweet Corn Soup with Toasted Corn Guacamole
Serves 4
8 ears fresh sweet corn
2 tablespoons olive oil
1/4 cup shallots, chopped  (2 medium)
1 poblano pepper, roasted, skin removed and chopped
2 garlic cloves minced
3 1/2 cups chicken broth
2 tablespoons cilantro, chopped
1 teaspoon lime peel
2 tablespoons lime juice
1/2 teaspoon kosher salt
1/4 teaspoon coarse pepper
1 avocado, chopped
1/2 cup queso fresco cheese, crumble
Using a sharp knife, cut the corn kernels off the cobs (should have about 4 cups). Set aside 3/4 cup of the corn for the guacamole. Set aside three of the corn cobs; discard remaining cobs.
In a large skillet heat 1 tablespoon of the olive oil over medium heat. Add 2 tablespoons of the shallots, half of the poblano pepper, and half of the garlic. Cook and stir for 4 to 5 minutes or until shallots are tender. Remove from skillet and set aside.
Add 1 1/2 cups of the chicken broth and reserved corn cobs to the skillet. Bring to boiling, reduce heat. Cover and simmer for 5 minutes. Remove corn cobs and discard, reserve broth in skillet.
Add the 3 1/4 cups corn kernels to the broth in the skillet. Bring to boiling, reduce heat. Cover and simmer for 4 to 5 minutes or until corn is tender. Cool slightly. In a blender or food processor combine cooked corn and shallot mixture. Cover and blend or process until almost smooth. Return pureed mixture to the skillet. Slowly whisk in enough remaining broth to reach desired consistency,  heat through. Keep soup warm while preparing guacamole.
For guacamole, in a large skillet heat the remaining 1 tablespoon oil over medium-high heat. Add the 3/4 cup reserved corn kernels. Cook for 8 to 10 minutes or until kernels are tender and lightly browned, stirring occasionally. Remove from heat and cool slightly.
In a medium bowl combine toasted corn, the remaining garlic, the remaining shallot, the remaining poblano pepper, the cilantro, lime peel, lime juice, salt, and black pepper. Add the avocado. Lightly toss to combine.
Ladle soup into bowls. Top with guacamole and sprinkle with crumbled queso fresco cheese.
Adapted from    Better Homes And Gardens