Wilted Greens With Bacon Jam
October 27, 2014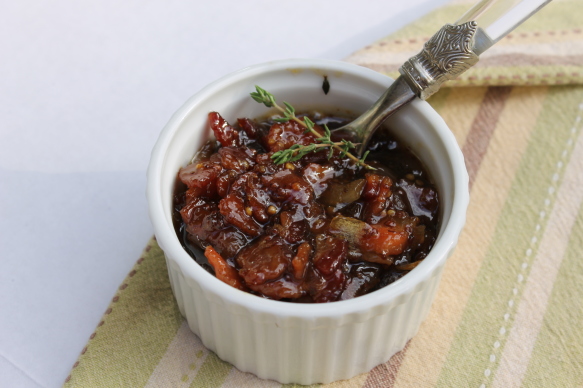 Bacon jam. Sweet, savory, slightly smokey and a bit crunchy. This condiment is a game changer for a multitude of dishes. While I'm posting this to accompany greens (  Thanksgiving??) think of the possibilities…..ultimate grilled cheese, hamburgers, over brie, rosemary focaccia crostini, stuffed dates, quesadillas and on and on and on. While there are lots of versions of this jam out there, I chose this recipe for ease of ingredients. Other additions include coffee, maple syrup, paprika, garlic, etc…This version is quick and easy.
Holly Hill Inn's Bacon Jam
Makes about 2 cups
1 lb. good-quality bacon, diced
1 1/2 cups diced onion
1/8 cup bourbon
1 cup apple cider vinegar
1/2 cup brown sugar (original recipe called for 1 cup)
1/4 cup whole-grain mustard
Cook bacon in a cast-iron skillet over medium-high heat until a good amount of fat has rendered and bacon just starts to turn golden, about 4 to 5 minutes. Remove bacon, set aside and leave only about 2 tablespoons of bacon grease in the pan. Add diced onion, turn the heat down to low, and cook together until onion is tender. Add the bacon, bourbon, vinegar, brown sugar, and mustard. Simmer until thick, (stirring occasionally) about 45 minutes to 1 hour or until liquid is evaporated. (You may choose to use a food processor at this point…pulse only a few times)  Refrigerate until ready to use. Can be refrigerated for up to 5 days or freeze.
Recipe from Ouita Michel
Wilted Greens with Bacon Jam
Serves 4-6
2 lbs. mixed young greens, such as mustard, chard, kale, and spinach
1/4 cup bacon jam 
Kosher salt and freshly ground black pepper, to taste
Optional garnishes: red onion, sliced boiled egg
Submerge greens in standing water, remove any large stems, and rip leaves into bite-size pieces if necessary. Heat a large cast-iron skillet over medium-high, add bacon jam, and melt. Add greens, turn heat to high, and toss until wilted. Season with salt and pepper. Garnish as desired and serve immediately.
Recipe from Ouita Michel