Creamy Parsnip Soup
November 21, 2014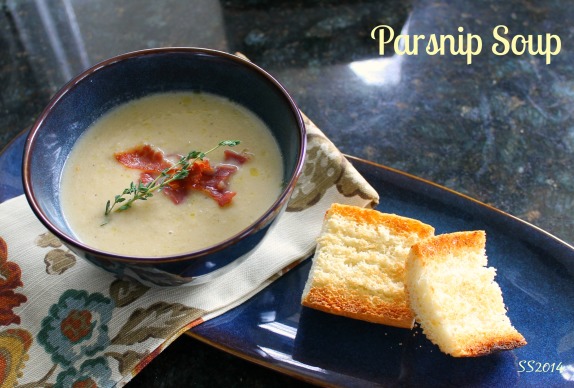 It's the season of tubers and root vegetables. Parsnips, with their unique rustic flavor, tend to be an under appreciated vegetable. Combining this ivory-colored root veggie with celery, onion, and garlic creates a savory, creamy and slightly sweet soup. Packed with vitamins, minerals, fiber and phyto-nutrients, this soup delivers added health benefits as we head into the chilly months ahead.
Creamy Parsnip Soup 
Serves 8-10
2 tablespoons extra-virgin olive oil
1 large onion, chopped
2 celery stalks, chopped
2 tablespoons unsalted butter
2 garlic cloves, smashed
2 tablespoons thyme, minced
2 1/2 pounds of parsnips, peeled and cut into 2 chunks
4 cups  low-sodium chicken broth
4 cups water
1/2 cup heavy cream
1/2 cup milk (if needed)
2 ounces thinly sliced prosciutto, cut into 1/4-inch-wide strips
Thyme sprigs, for garnish
Salt and freshly ground pepper, to taste
In a large pot, melt the butter in 1 tablespoon of the olive oil. Add the onion and celery cook over low heat, stirring occasionally, until softened, about 5 minutes. Add butter, garlic and parsnips cook for about 4 minutes. Add salt, pepper and thyme. Add the broth and water and bring to a boil over high heat. Cover and simmer over low heat until the parsnips are tender, about 30 minutes.
Meanwhile, in a small skillet, heat the remaining 1 tablespoon of olive oil. Add the prosciutto and cook over moderately high heat, tossing, until crisp, about 30 seconds. Using a slotted spoon, transfer the prosciutto to a paper towel–lined plate to drain. Or alternatively, place on a baking sheet and broil for approximately 2 minute until slightly crisp, about 2 minutes.
Working in batches, puree the soup in a blender until very smooth. Transfer the soup to a  saucepan. Stir in the cream (and milk, if needed), bring to a simmer over moderate heat, stirring a few times. Season the soup with salt and pepper. Serve. Garnish with the prosciutto and thyme leaves.
Adapted from: Food and Wine