Chicken and Wild Rice Soup
December 8, 2014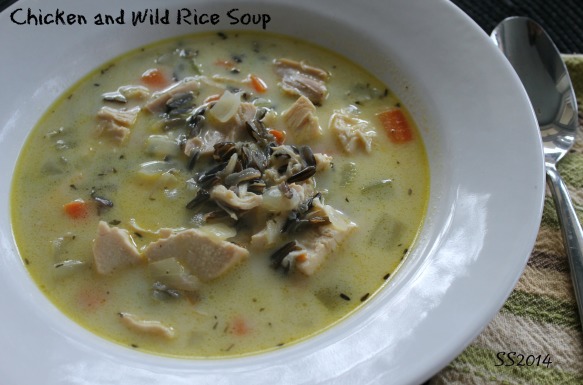 You are going to love this simple, rustic chicken soup with its autumnal flavors. This soup is as easy as sauteing a few vegetables, adding chicken or turkey and then the star…wild rice. With its distinctive nutty, earthy flavor and chewy texture, the rice turns this soup into a rich hearty meal. Nutritionally, wild rice is as robust as the flavor. This rice is actually a grain and it contains almost twice the protein and fiber as brown rice, and is also high in B vitamins, manganese, zinc, potassium, phosphorous, magnesium, and gluten free while being relatively low in calories.
Chicken and Wild Rice Soup
Serves 8
4 tablespoons unsalted butter
3 celery ribs, cut into 1/2-inch pieces
2 carrots, cut into 1/2-inch pieces
1 medium onion, chopped
2 garlic cloves, minced
1 1/2 teaspoons finely chopped thyme
Salt
Pepper
1/4 cup all-purpose flour
1 cup wild rice (5 ounces)
2 quarts chicken stock or low-sodium broth
2 cups water
4 cups bite-size pieces of roasted chicken or turkey
1 cup heavy cream (optional…but delicious)
In a large saucepan, melt the butter. Add the celery, carrots, onion, garlic, thyme and a generous pinch each of salt and pepper and cook over moderate heat, stirring occasionally, until the vegetables just start to soften, about 10 minutes. Sprinkle the flour over the vegetables and cook, stirring, until evenly coated and lightly browned, about 3 minutes.
Add the wild rice to the saucepan and gradually stir in the stock and water. Bring to a boil, then simmer over moderately low heat, stirring occasionally, until the vegetables are tender, about 30 minutes. Add the chicken and simmer, stirring occasionally, until the wild rice is tender, 10 to 15 minutes longer. Stir in the cream and season with salt and pepper. Ladle the soup into bowls and serve.
****Garnish idea. My Minnesota girlfriend Holly suggests toasted slivered almond and grated cheddar cheese. Sounds delish…thanks Holly!