Spaghetti Squash and Italian Sausage
December 29, 2014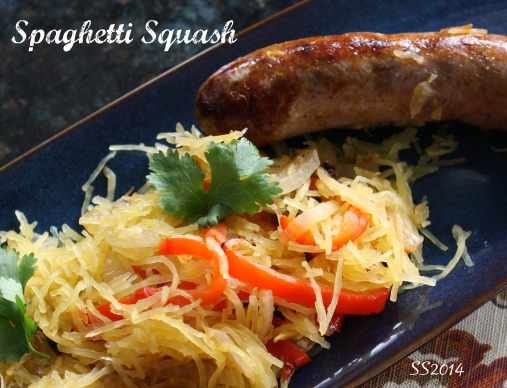 It's hard for me to believe this was the first time I've made spaghetti squash. I'm a lover of the butternut and I'm a lover of the acorn and now you can add spaghetti to the list. It's one of the easiest vegetables to create a tasty, simple weeknight meal. This little recipe has a sweet Italian flavor with a bit of a kick. Add your favorite chicken, turkey or Italian sausage. For another healthy alternative, toss with shredded kale, olive oil, garlic, parmesan cheese and a splash of lemon juice.
Spaghetti Squash and Italian Sausage
Serves 4
1 small spaghetti squash (about 2 pounds)
3 tablespoons extra-virgin olive oil
Kosher salt and freshly ground pepper
4 hot Italian sausage (pork, chicken or turkey)
1 red bell pepper, thinly sliced
1 medium onion, halved and thinly sliced
1 clove garlic, chopped
1/4 cup chopped fresh parsley
Freshly grated parmesan cheese
Preheat the oven to 450 degrees.
Split the squashes in half and scrape out seeds. Line an oven tray with aluminum foil. Season the spaghetti squash with olive oil, salt, and pepper. Place flesh side down and roast for 30 to 40 minutes until fully cooked. Remove from the oven and let rest until cool enough to handle.
When squash is cool enough to handle, using a large kitchen spoon scrape the strands of squash from the inside of the skin.
Meanwhile, heat a grill pan over medium heat. Grill the sausages, turning, until cooked through, about 20 minutes.
Heat the remaining 2 tablespoons olive oil in a skillet over medium-high heat. Add the bell pepper, onion and 1 teaspoon salt and cook until softened, about 5 minutes. Add the garlic and cook until the vegetables begin to brown, about 4 more minutes. Toss in the squash and parsley and season with salt and pepper. Serve with the sausages and sprinkle with parmesan.
Adapted from:  Food Network