Pear And Fennel Salad
January 13, 2015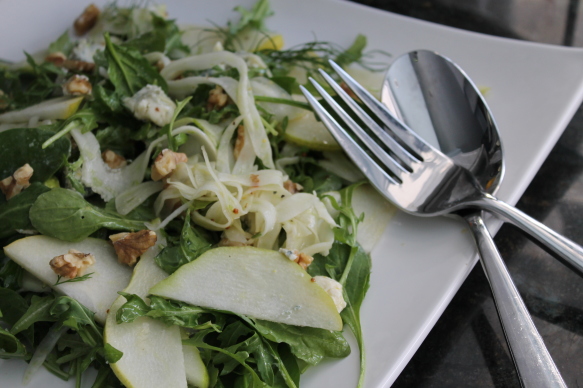 Fennel and pear are wonderful partners and combine beautifully to create this winter-time salad. The paper-thin fennel with a subtle, slightly sweet anise flavor, the bright peppery arugula and the crisp pear make this a perfect side for your 
comfy
entree (
braised beef shank
?). The immune boosting fennel is a great source of vitamin A, potassium, iron and aids in digestion. Pears are an excellent source of fiber and plenty of vitamin C. Add the nutritional power house, baby spinach, and you have a healthy and delicious salad!
Pear And Fennel Salad
Serves 4-6
2 ripe pears, sliced about ⅛ inch thick
1 small fennel bulb, if you are prepping with a knife try your best to slice very thin (I used a mandolin)
Lemon, a squeeze
Arugula or baby spinach (I used both)
¼ cup toasted walnuts
¼ cup crumbled blue cheese
Mint leaves, a few to garnish
Dressing:
¼ cup olive oil
2 tablespoons sherry vinegar
 1 teaspoon Dijon mustard
¼ teaspoon honey
Pinch of red pepper flakes
Salt & pepper
Thinly slice fennel into a small bowl. Drizzle a tiny bit of olive oil, a small squeeze of lemon, and some salt. Toss and set aside. (this process tenderizes the fennel a bit).
Whisk together the dressing ingredients, taste and adjust seasoning. Set aside.
In a larger bowl, toss together the pears, arugula, fennel, most of the blue cheese, and most of the walnuts. Dress the salad, be careful not to overdress! Taste and adjust seasonings again. Assemble on a platter and top with the remaining cheese, walnuts, and mint leaves. Serve.