Salad Nicoise with Seared Tuna
January 18, 2015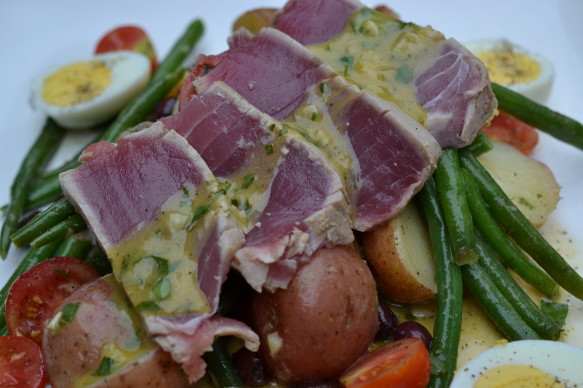 January. A fresh start. This healthy, protein packed salad from Provence, a staple in bistros all over France, may just be the entree to add to your weekday repertoire. In the traditional recipe according to Jacques Medecin, an authority on Provencal cuisine, "Never include boiled potato or any other boiled vegetable in your Nicoise. The only cooked ingredient should be eggs to be a authentic Nicoise". My version goes like this. While high quality canned tuna is standard in French Bistros….I choose fresh (not a fan of the can!). Baked salmon is a smart alternative to tuna. I also include lettuce, tomatoes, potatoes, green beans, anchovies, olives and eggs. This is really just a starting point….be creative with your veggies. This French vinaigrette ties these components together beautifully. You typically find this salad on summer menus, however, the ingredients can be found fresh year round (O.K. maybe not tomatoes) so you can enjoy this satisfying meal all seasons!!
Salad Nicoise
Serves 8          (pictured, serves 2-3)
Dressing
2 garlic cloves, minced
1 teaspoon Dijon mustard
3 tablespoons red wine vinegar
1/2 lemon, juiced
2 tablespoons chopped fresh flat-leaf parsley
2 tablespoons minced fresh tarragon
Sea salt and ground black pepper
1/2 cup extra-virgin olive oil
Salad
1 pound small red new potatoes, scrubbed and halved
8 large eggs
1/2 pound haricots verts or French green beans, stems trimmed
2 pounds fresh sushi-quality tuna
2 tablespoons extra-virgin olive oil
Sea salt and freshly ground black pepper
1 pint cherry tomatoes, halved
1 cup nicoise olives
16 anchovy fillets
16 caper berries with stems or 2 tablespoons capers
1/2 bunch fresh chives, snipped in 1/2
Dressing: Combine all ingredients in a jar or processor. Shake the vinaigrette to emulsify or blend together in your processor. Set the dressing aside while preparing the salad.
Place the potatoes in a large saucepan, add water to cover and a pinch of salt; bring to a boil over medium heat. Simmer the potatoes for approximately 20 minutes or until fork tender. Place a steamer basket or colander on top of simmering water. Put the green beans in the steamer and cover with a lid. Steam the beans for 5 minutes until crisp-tender. Rinse the beans under cold water to stop the cooking. Make hard-boiled eggs. Peel the shells off the hard-boiled eggs and cut them in 1/2 lengthwise.
Place a large skillet over medium-high heat. Rub the tuna on all sides with olive oil, and a bit of the dressing; season salt and pepper. Lay the tuna in the hot pan and sear for approximately 1-2 minutes on each side; as the tuna cooks, the red meat will become whiter. Transfer the tuna to a cutting board and slice.

To assemble the salad: combine the potatoes, green beans, tomatoes, olives, anchovies, capers, and chives in a large mixing bowl. Take the vinaigrette and give it another good shake to recombine. Drizzle the salad with dressing and toss gently to coat; season with salt and pepper. Toss carefully. Put the tossed salad down the center of a serving platter and lay the seared tuna attractively across the top and the eggs around the rim. Drizzle with the remaining vinaigrette and serve.

Adapted from   Tyler Florence