Cauliflower and Caramelized Onion Tart
January 24, 2015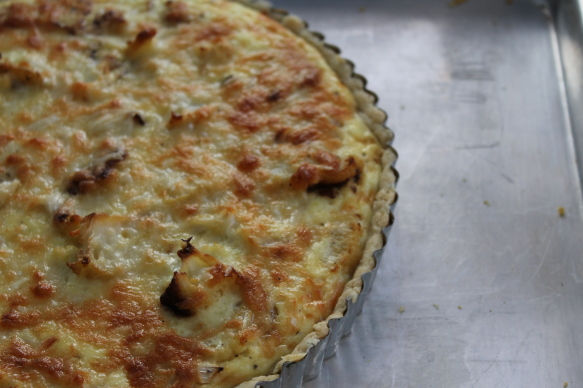 Cauliflower seems to be getting a bit more love lately….as it should. This cruciferous vegetable boosts antioxidant, anti-inflammatory, cardiovascular and digestive support. Roasting cauliflower turns the slightly bitter flavor to sweet and nutty. Healthy and yummy. NOW add sweet caramelized onions, a cheesy custard, a bit of dijon and you have a rich, decadent, stand-alone dinner entree, a perfect brunch item or an addition to a holiday buffet. A bit of a splurge I know but there are occasions people!
Cauliflower and Caramelized Onion Tart
Serves 8
1 small head of cauliflower (about 1 pound)
3 1/2 tablespoons olive oil
1 tablespoon truffle oil or a few pinches of truffle salt (optional, I did not add)
1 refrigerated pie crust or a homemade tart shell (recipe below)
1 large onion, halved lengthwise and thinly sliced
1 tablespoon Dijon mustard
2 large eggs
1  8- ounce container mascarpone cheese (see Note below for suggested substitutions)
1/2 cup whipping cream (I used whole milk)
1/4 teaspoon ground black pepper
Pinch of ground nutmeg
1 cup grated Gruyère cheese (you could sub: Swiss or Comté)
1/3 cup Parmesan cheese
Position rack in center of oven and preheat oven to 425°F. Toss cauliflower with 2 tablespoons olive oil in large bowl. Spread on rimmed baking sheet, sprinkle with salt and pepper and roast 15 minutes before turning florets over and roasting until brown and tender, another 15 minutes. Cool cauliflower then thinly slice and drizzle with truffle oil or sprinkle with truffle salt, if using.  Reduce oven temperature to 350°F.
If using store-bought pie crust, press it onto the bottom and up the sides of a 9-inch diameter tart pan with removable bottom. Line crust with foil, fill with pie weights and bake 20 minutes. Remove foil and weights then bake until crust is golden, about 5 additionally minutes. Press crust back with the back of a fork if bubbles form. Cool crust and maintain oven temperature.
Heat remaining 1 1/2 tablespoon olive oil in a heavy large skillet over medium-low heat. Add onion, sprinkle with salt and pepper and cook until onion is a deep golden brown, stirring occasionally. Approximately 30 minutes. Cool slightly.
Using a knife or brush spread the bottom and sides of crust with mustard. Spread onion over crust. Arrange cauliflower over the onion. Set the tart on a rimmed baking sheet. Whisk eggs, mascarpone, cream (or milk) and pepper in a medium bowl. Stir in Gruyère. Pour mixture over filling in tart pan, sprinkle with Parmesan. Bake until tart is golden and center is set, about 40 minutes. Transfer to rack and cool 15 minutes before serving.
Do ahead: Onions can be caramelized, dough can be par-baked (or rolled and pressed into pan, if homemade) and cauliflower can be roasted a day ahead. Store a par-baked crust at room temperature, a rolled-out unbaked crust and cauliflower and onion in the fridge. Keep cauliflower and onion should in separate containers. The whole tart can be made and baked a day in advance, reheated in a low oven before serving.
Adapted from Bon Appetit/ Smitten Kitchen
A Savory Tart Shell
Adapted from Le Pain Quotidien
1 1/4 cups flour
1 tablespoon plus 2 teaspoons cornstarch
1/4 teaspoon salt
6 tablespoons butter, diced
1 egg
In a large bowl, combine the flour, cornstarch and one-fourth teaspoon salt. Cut the butter in with a pastry blender, fork or two knives until it is in very tiny bits. Add one egg and mix with a fork until a dough forms. If this does not happen easily, toss it out onto a counter and knead it together. This dough is rather tough but with a little elbow grease, it does come together nicely. (I made this dough TWICE!! In a food processor the dough was too hard to handle and roll out…I recommend by hand with a fork).
On a lightly floured surface, roll the dough out to a 12-inch circle. Place the dough in a 9-inch pie plate or tart pan and press to remove any air bubbles. Crimp the edges, and refrigerate for 30 minutes. Proceed with your filling, no par-baking required.