Scallops With Brussels Sprouts And Pancetta
February 14, 2015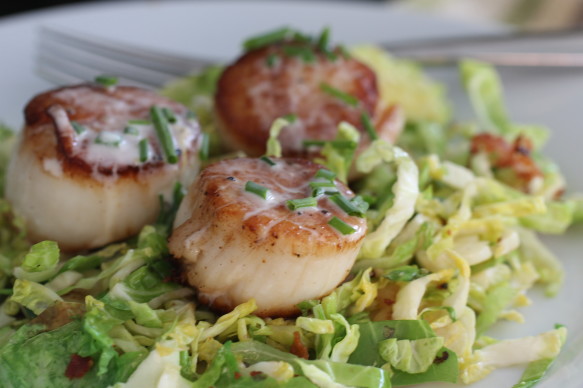 It's Valentines Day and you are NOT paying 2x for dinner "out." This entree, along with a nice bottle of champagne and strawberries, will make for a very special evening at home. With only a handful of ingredients, this meal takes about 20 minutes…all in!! Brussels Sprouts are well accented by crisp pancetta, shallots, and garlic…a perfect accompaniment to the sweet, tender scallops. Drizzle with a light, lemony sauce for a perfect finish. All you procrastinators….you're welcome!! For a quick and impressive sweet ending I suggest Balsamic Strawberries with a scoop of vanilla ice cream. See recipe below.
Scallops With Brussels Sprouts
Serves 2     OR  1 scallop each for an appetizer course
1/4 cup crème fraîche
1/4 teaspoon finely grated lemon zest
1 teaspoon fresh lemon juice
1 tablespoon snipped chives
3 tablespoons extra-virgin olive oil
Salt and freshly ground pepper
6 jumbo scallops (about 3/4 pound)
6 thin slices pancetta (about 2 ounces)
1/2 pound Brussels sprouts, thinly sliced
1 shallot, thinly sliced
1 tablespoon unsalted butter
1 garlic clove, minced
In a small bowl, whisk the crème fraîche with the finely grated lemon zest, fresh lemon juice, snipped chives and 1 tablespoon of the olive oil. Season the lemon-chive crème fraîche with salt and pepper.
In a medium skillet, heat the remaining 2 tablespoons of olive oil until shimmering. Generously season the scallops with salt and pepper and add them to the skillet. Cook the scallops over moderately high heat, turning once, until they are golden and just cooked through, about 5 minutes. Transfer the scallops to a plate; tent with aluminum foil to keep warm.
Or cook the scallops until caramelized, the Thomas Keller way!
Meanwhile, in another medium skillet, cook the pancetta over moderately high heat, turning once, until browned and crisp, about 4 minutes. Add the Brussels sprouts and shallot and cook, stirring, until the Brussels sprouts are softened but still bright green, about 2 minutes. Off the heat, stir in the butter and garlic and season with salt and pepper; transfer to plates and top with the scallops. Serve with the lemon-chive crème fraîche.
This dish would also work well for a first course appetizer.
Inspiration from: Maureen
Recipe Adapted from: Food And Wine
Balsamic Strawberries
Serves 2
1 pint (about 2 cups) fresh strawberries, sliced thick, note the heart shape!
1 1/2 tablespoons balsamic vinegar
1/2 tablespoon sugar
Pinch freshly ground black pepper
Vanilla ice cream, for serving
Freshly grated lemon zest, for serving
Thirty minutes to an hour before serving, combine the strawberries, balsamic vinegar, sugar, and pepper in a bowl. Set aside at room temperature.
Place a serving of the strawberries in a bowl with a scoop of ice cream on top and dust lightly with lemon zest.
Recipe adapted from: Ina Garten