Braised Short Ribs
February 28, 2015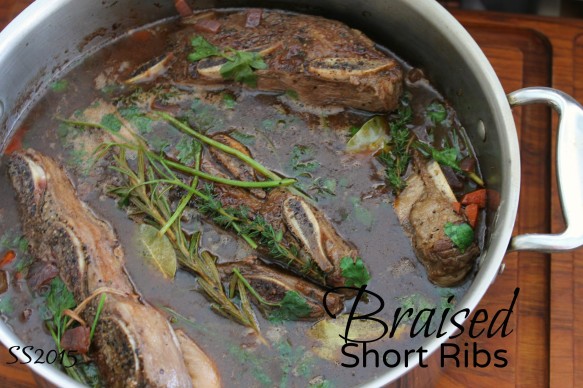 What's the perfectly elegant yet casual dinner party meal, you ask? Braised short ribs. This dish has a deep, rich flavor benefiting from a long, slow cooking process.
Short ribs, when done to perfection, literally fall off their bones. Starting with browning the meat and adding the holy trinity of vegetables, (onions, celery and carrots) you are well on your way to creating this mouth-watering dish. The herbs that are natural companions (thyme, oregano and rosemary) along with the braising liquid of wine and broth, create a beautiful sauce. Ideally, cook the day before and refrigerate.
The short ribs are the star of the show, so keep the side simple. Mashed potatoes, polenta or a plain wide noodle are the perfect side to soak up all that yummy sauce. This entree pairs well with a hearty Cabernet Sauvignon.
Braised Short Ribs
Serves 6
5
pounds
bone-in beef short ribs, cut crosswise into 2″ pieces
Kosher salt and freshly ground black pepper
3
tablespoons
vegetable oil
3
medium carrots, peeled, chopped
3
tablespoons
all-purpose flour
1
tablespoon
tomato paste
1
750-ml bottle dry red wine (preferably Cabernet Sauvignon)
10
sprigs flat-leaf parsley
2
fresh or dried bay leaves
1
head of garlic, halved crosswise
4
cups
low-salt beef stock
Preheat oven to 350 degrees. Season short ribs with salt and pepper. Heat oil in a large Dutch oven over medium-high heat. Working in 2 batches, brown short ribs on all sides, about 8 minutes per batch. Transfer short ribs to a plate. Pour off all but 3 tablespoon drippings from pot.
Add onions, carrots, and celery to pot and cook over medium-high heat, stirring often, until onions are browned, about 5 minutes. Add flour and tomato paste; cook, stirring constantly, until well combined and deep red, 2-3 minutes. Stir in wine, then add short ribs with any accumulated juices. Bring to a boil; lower heat to medium and simmer until wine is reduced by half, about 25 minutes. Add all herbs to pot along with garlic. Stir in stock. Bring to a boil, cover, and transfer to oven.
Cook until short ribs are tender, 2–2 1/2 hours. Transfer short ribs to a platter. Strain the sauce from pot into a bowl. Spoon fat from the surface of sauce and discard.  (This dish is better if made the day before and the sauce is easier to de-fat after being refrigerated.) Season sauce to taste with salt and pepper. Serve in shallow bowls over mashed potatoes, polenta or noodles with sauce spooned over.
Adapted from: Bon Appetit