Corned Beef Grilled Cheese Sandwich with Guinness Caramelized Onions
March 7, 2015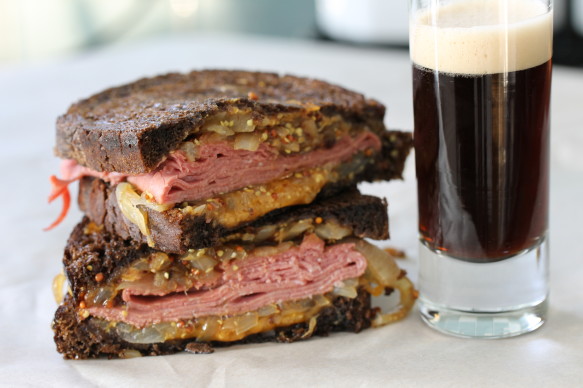 It's savory, sweet, gooey and all around perfect to add to your grilled cheese repertoire. AND just in time for St. Patrick's Day! Plan for a casual dinner or a tasty leftover creation. Caramelizing the onions in Guinness softens their flavor and adds a note of sweet chocolate. The Dijon and Worcestershire bring a smokey bite while the grated cheddar cheese softens all the flavors to make an over-the-top delicious grilled cheese sandwich!!
Corned Beef Grilled Cheese Sandwich with Guinness Caramelized Onions
Makes 1 sandwich
1 tablespoon oil
1 medium onion, sliced
1/2 cup Guinness,  in a can (milder flavor)
1 teaspoon Worcestershire sauce
2 teaspoons grainy mustard
1 tablespoon butter, room temperature
2 slices rye or dark rye, lightly toasted
1/2 cup cheddar, shredded, room temperature
2 ounces cooked corned beef, warm (use leftovers or a very lean deli brand like Boars Head)
Heat the oil in a pan over medium heat. Add the onions and saute until tender, about 5-7 minutes.
Add 1/4 cup Guinness , cover and simmer until the liquid has mostly evaporated, about 15 minutes and repeat 2 times.
Remove from heat and mix in the Worcestershire sauce and grainy mustard.
Heat a non-stick pan over medium heat.
Butter the outside of each slice of bread, sprinkle half of the cheese on the inside of one slice of bread, top with half of the onions, the corned beef, the remaining onions, cheese and finally the other slice of bread.
Add the sandwich to the pan and grill until golden brown and the cheese has melted, about 2-4 minutes per side.
Adapted from: Closetcooking