St. Paddy's Day Stuffed Potaotes
March 13, 2015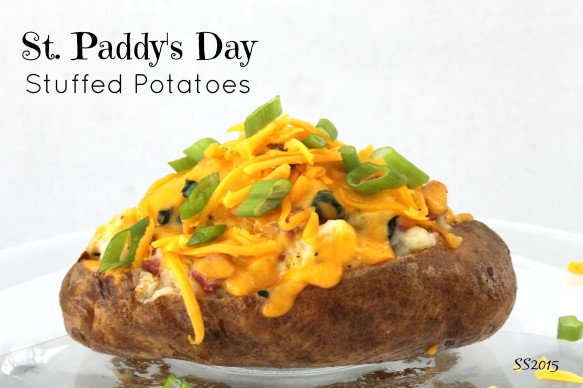 Colcannon: mashed potatoes studded with tender cabbage or kale, onions, salt, pepper, butter and cream. This traditional Irish potato dish is typically served on Halloween. Well, I'm turning this savory side into a hearty main for St. Paddy's Day by adding corned beef and horseradish sauce! Stuffing these spuds with the earthy and creamy flavors makes for a delicious and satisfying meal before you head out to celebrate and pretend you're Irish. Add a kale salad (see below), some Guinness, this dessert …and you have yourself a fun, affordable menu. A few other party ideas…flatbread, SPD rolls, and SPD grilled cheese.
St. Paddy's Day Stuffed Potatoes
Serves 4
4 large russet potatoes, scrubbed, pierced a few times with a fork
4-5 slices thick-cut first cut deli corned beef cubed OR shredded leftovers
4 stems (stemmed) and chopped curly kale OR about 1-1/2 cups green cabbage
4 tablespoons chicken stock
4 tablespoons unsalted butter, softened
Kosher salt and freshly ground black pepper
1- 1/2 cups (4 oz) coarsely grated Cheddar Cheese OR Irish Cheddar
1/4 cup sour cream
2 tablespoons (or more to taste) horseradish cream (big yum!)
1 tablespoons canola oil
1 tablespoons thinly sliced fresh chives or scallions
*Can be made 1 day ahead and refrigerated.
Position a rack in the center of the oven and heat the oven to 425 degrees. Place the potatoes directly on the oven rack and bake until tender when pierced with a fork, about approximately 1 hour or until fork comes out easily. Transfer the potatoes to a cutting board and let sit until cool enough to handle, about 10 minutes.
In a skillet over medium heat, add chicken stock and kale, stirring until kale is wilted, 4 minutes. Set aside.
Cut a 1/2-inch-thick slice lengthwise off the top of each potato; scrape the flesh from the slices into a large bowl and discard the skins. Spoon the flesh from the potatoes into the bowl, leaving a 1/4-inch shell. Add the butter, 3/4 tsp. salt, and 1/2 tsp. pepper and mix with a potato masher until blended; do not overwork (lumps are OK). Gently fold in the corned beef, kale mixture, sour cream, horseradish sauce and half of the cheese with a spatula. Season to taste with more salt and pepper. Adjust consistency by adding more sour cream or horseradish sauce if desired.
Rub the outsides of the potato shells with the oil. Distribute the filling among the shells, and place on a rimmed baking sheet.
Bake the potatoes, uncovered, until heated through, 25 to 30 minutes, until hot in the center. Sprinkle the potatoes with the remaining cheese and bake until the cheese melts and browns lightly in some places, 2 to 3 minutes more. Garnish the potatoes with the scallions, and serve.
Add a side salad to get a complete meal. You may want to eliminate the kale from the potato mixture and make this Kale Salad (below).
Kale Salad
Kale bunch, stem removed, thinly sliced
Radishes bunch, thinly sliced
2 carrots, julienned
Salt and Pepper
Dressing
Keeping it… St. Paddy's Style
2-3 tablespoons horseradish (to taste) or sauce from above recipe
1/2 cup creme fraiche, add more if needed
1 tablespoon Dijon mustard
1/4 cup extra virgin olive oil (or less, depending on desired consistency)
Salt and pepper to taste