Stuffed Poblano Peppers
May 12, 2015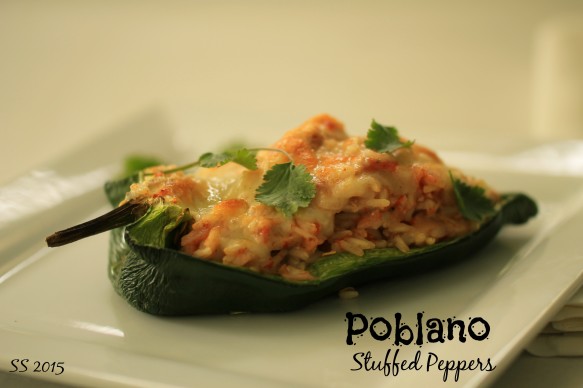 If you are a food prepper or have a fridge with lots of leftovers, this recipe pulls together quickly for a tasty weeknight dinner. Poblano chiles are rich and flavorful with a mild to medium heat. Mix the remaining ingredients to create a fiesta of flavor that can be adjusted to your liking.  Serve with a simple side salad.
Poblano Peppers Stuffed with Chicken and Brown Rice
Makes 8
4 large poblano chiles
2 medium tomatoes, chopped
1/2 medium white onion, chopped
large clove garlic, chopped
1 teaspoon dried oregano, crumbled
1 teaspoon ground cumin
Generous pinch ground cinnamon
Kosher salt
1 Tablespoon olive oil
2 cups shredded cooked chicken (or black beans)
1-1/2 cups cooked brown or white rice
2 cups grated sharp or extra-sharp white Cheddar (about 7 oz.)
1/4 cup chopped fresh cilantro
1 Tablespoon lime juice
Position an oven rack about 4 inches from the broiler and heat the broiler on high. Line a large rimmed baking sheet with foil.
Slit the chiles from stem to tip and set on the baking sheet. Broil, turning every few minutes, until blackened all over, 5 to 8 minutes. Let cool slightly, peel off the skins, and cut out the seed cores, leaving the stems on. Turn the chiles inside out, flick out any remaining seeds, and turn right side out. Return the poblanos to the baking sheet.
Purée the tomatoes, onion, garlic, oregano, cumin, cinnamon, and 1/2 tsp. salt in a food processor. Heat the oil in a 12-inch skillet over medium heat. Add the purée and cook, stirring frequently, until the liquid has evaporated and the mixture looks thick and pulpy, 8 to 11 minutes. Remove the pan from the heat. Stir in the chicken and rice, and then 1 cup of the cheese, the cilantro, and the lime juice. Season to taste with salt. Divide the filling among the peppers, wrapping the sides of the peppers up and around the filling, some of which will still be exposed.
Broil the peppers until the cheese is melting and the top is beginning to brown, about 4 minutes. Top with the remaining 1 cup cheese and broil until the cheese is completely melted, about 2 minutes.
Garnish with cilantro, avocado (optional), sour cream (optional)
Adapted from: Fine Cooking