Cedar Planked Salmon With Maple Glaze and Mustard Mashed Potaotes
June 6, 2015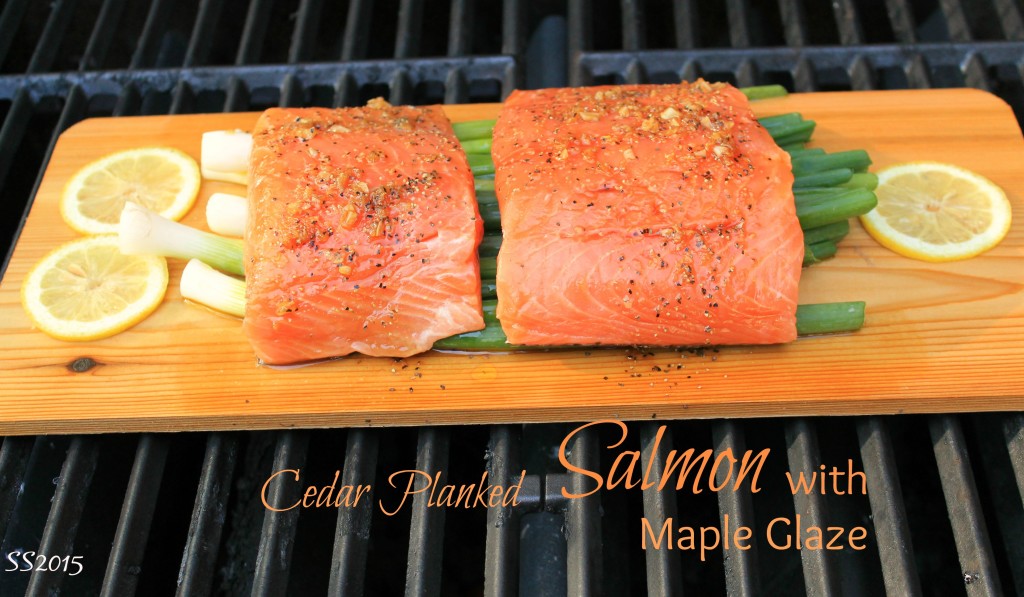 Well, there is a first for everything ….and this was that!! Success. Cooking salmon on cedar planks creates a fragrant, smokey flavor that helps lock in the moisture AND prevents the fish from sticking to the grill. A glaze of maple syrup with ginger, garlic, soy and lemon juice adds a hint of sweetness and a nice kick. For best presentation keep the salmon on the plank when serving. I like the idea of individual planks. You can buy a set from Costco however, my sister, Lisa, who enjoys this salmon once a week, has planks cut at Home Depot and $aves! Oh, and the mustard mashers…to die for! It's the perfect combination with the salmon.
Cedar Planked Salmon With Maple Glaze and Mustard Potatoes
 Makes 6 servings
Untreated cedar planks, soaked in water for 1 to 2 hours
3 tablespoons water
1/4 cup PURE maple syrup
2 tablespoons finely grated peeled fresh ginger root
4 tablespoons fresh lemon juice/ divided
3 tablespoons soy sauce
1 1/2 teaspoons minced garlic
2 1/2-pound center-cut salmon fillet with skin
1 bunch scallions
In a small heavy saucepan simmer maple syrup, ginger root, 3 tablespoons lemon juice, soy sauce, garlic, and salt and pepper until reduced by about half, and let cool. (Maple glaze may be made 2 days ahead and chilled, covered. Bring maple glaze to room temperature before proceeding.)
Put salmon, skin side down, on scallion greens and brush with half the glaze. Season salmon with salt and pepper.
Add the remaining 1 tablespoon of lemon juice to the remaining sauce and warm up and use as a finishing sauce. Keep warm.
Heat grill to (about 400 degrees).  Place your plank with the seasoned salmon on the grill. Cook with the lid closed (to keep in all that flavorful smoke) until the fish is done to your liking. If your salmon fillet is an inch thick, this process should take about 20-25 minutes. Adjust for thickness of the fish.
Cut salmon into pieces. On each plank arrange salmon and scallion greens on a bed of mashed potatoes. Drizzle salmon with warm sauce.
Mustard Mashed Potatoes
Serves 6
2  3/4 pounds medium-size Yukon Gold potatoes, peeled, quartered
6 tablespoons butter, room temperature (I used 3 T)
2/3 cup whole milk (I used skim)
3 tablespoons Grainy Dijon mustard
Cook potatoes in large pot of boiling salted water until very tender, about 25 minutes. Drain well. Return potatoes to pot. Add butter and mash potatoes until almost smooth. Mix in 2/3 cup milk (adjust for desired consistency) and Dijon mustard. Season to taste with salt and pepper.