Sweet Kentucky Bourbon Cornbread Pudding with Candied Jalapenos
July 11, 2015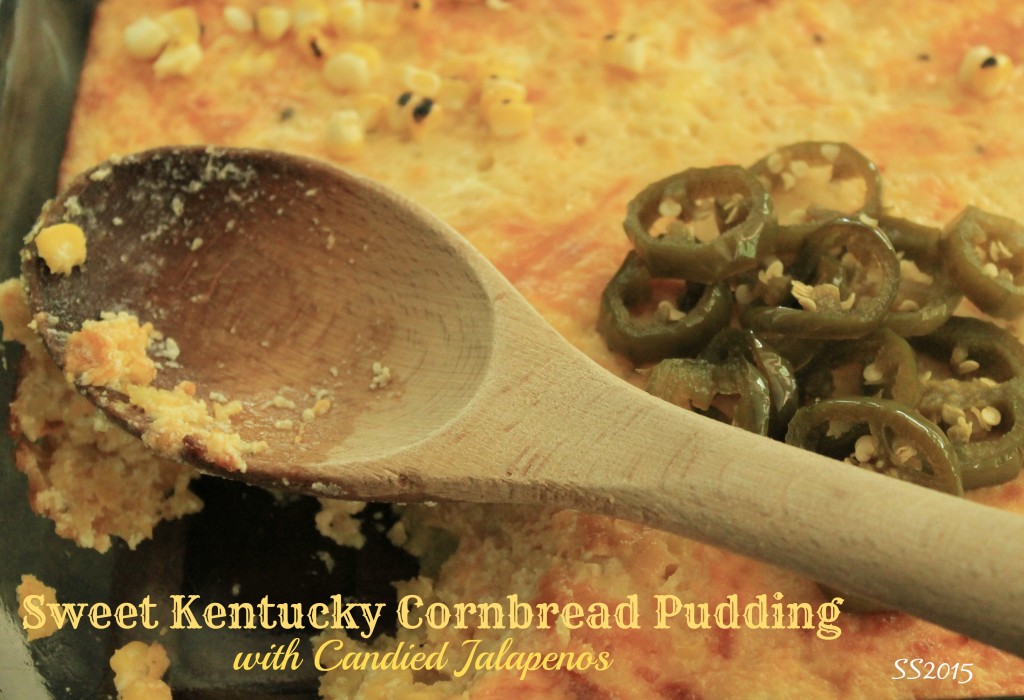 When I served this side along with BBQ ribs, I called it cornbread and Randy quickly responded, "this is not cornbread." Huh? I looked at the recipe again and he was right, it is corn pudding. While that made sense to him, I'm really "not a connoisseur of the cornbread" so I didn't have a strong opinion one way or another. Randy on the other hand does….and it passed Randy Lynn's southern cooking test. This dish is creamy with a nice texture from the corn kernels and the basil adds the delicious flavor of summer. The jalapenos add just the right amount of bite. I enjoyed the sweet and spicy peppers throughout the week. Try them on deviled eggs or burgers.
Cornbread Pudding
Serves 6-8
8 ounces cream cheese, softened
4 cups fresh or frozen corn
1 cup cornmeal
1/2 teaspoon salt and pepper
1- 1 1/2 cups milk
1/4 cup bourbon (optional, see below)
6 tablespoons unsalted butter, melted
2 eggs
1/4 cup honey
1 cup sharp cheddar cheese, grated
Candied Jalapeños
1/2 cup granulated sugar
4 tablespoons honey
1 cup apple cider vinegar
pinch of salt
6 jalapeños, sliced
Preheat the oven to 350 degrees. Grease a 9×13 inch baking dish.
In a mixing bowl, beat together the cream cheese, corn, cornmeal, salt and pepper until combined. Stir in 1 cup milk, the bourbon, melted butter, eggs and honey. (I was a little disappointed that the bourbon was not noticeable, so I will omit next time, and have a glass on the side!). If your batter seems thick add milk to make it pourable, but no more than 1/2 cup. Stir in the cheddar cheese.
Pour the batter into the prepared pan and bake for 45 to 50 minutes or until lightly golden and no longer soft in the center. Allow to sit 10 minutes before serving. Serve warm with the candied Jalapeños.
Candied Jalapeños
Add the sugar, honey, apple cider vinegar and a pinch of salt to a small sauce pan. Bring to a boil over high heat, stirring often to dissolve the sugar. Add the jalapeños and cook 1 minute longer, remove from the heat. Allow the mixture to cool and then store in a glass jar for up to 1 week in the fridge.
Adapted from: HalfBaked