Bloody Mary Salad
August 4, 2015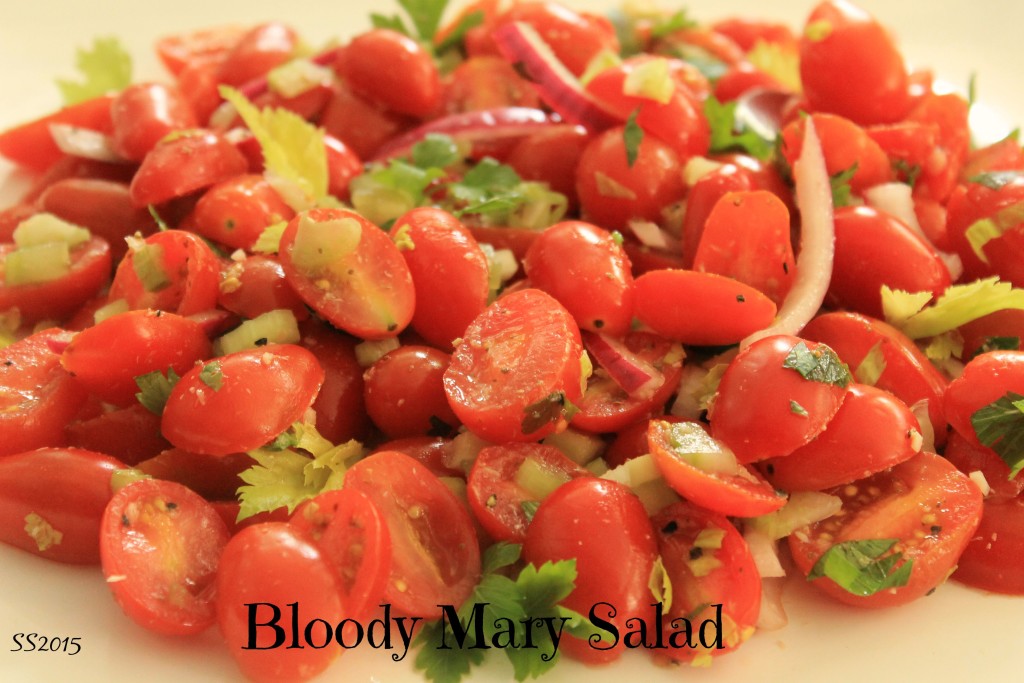 Hold the Vodka! That's all that's missing in this tasty twist of a Bloody Mary. Sweet, farm fresh tomatoes combined with all those yummy components of the cocktail make a delicious side for your summer BBQ. I paired this salad with a grilled flank steak and roasted potatoes for a quick weeknight meal. I have seen versions of this side using additional ingredients you typically garnish a Bloody with…string green beans, pickled shrimp… be creative!
Bloody Mary Salad
Serves 4
2 pints small tomatoes, cut in half
1 clove of garlic, minced
pinch of salt
3/4 cup red wine vinegar, divided
1/2 small red onion, sliced into thin half moons
2 tsp sugar
2 ribs of celery, small dice (about 1/2 cup) and leaves from the inner heart, finely sliced for the top of salad
1 tbsp celery salt
a few dashes of Worcestershire or  more to taste
1 tbsp horseradish to taste
ground black pepper to taste
3-4 sprigs of parsley, finely sliced
Combine the tomatoes, minced garlic, salt and 1/4 cup of the red wine vinegar in a bowl and set aside for 30 minutes.
Combine the remaining red wine vinegar and sugar in a small bowl, making sure the sugar is dissolved. Add the red onions, checking that they are submerged in the vinegar. Allow them to get soft.
Once tomatoes have sat long enough, drain liquid from the bowl into a small sauce pan. reduce liquid over medium heat until there's about 2 tbsp left and set aside.
Remove onions from vinegar and rinse, saving some leftover pickling solution in case the salad seems to dry.
In a medium bowl, combine tomatoes, onions celery, celery salt, horseradish, Worcestershire, black pepper and tomato/red wine vinegar reduction. Arrange the salad onto a serving plate and garnish with finely sliced celery leaves and parsley. (I added additional Worcestershire, horseradish and a splash of tobasco)
Adapted from: The First Mess