Corn Fritters with Cilantro Lime Sauce
September 3, 2015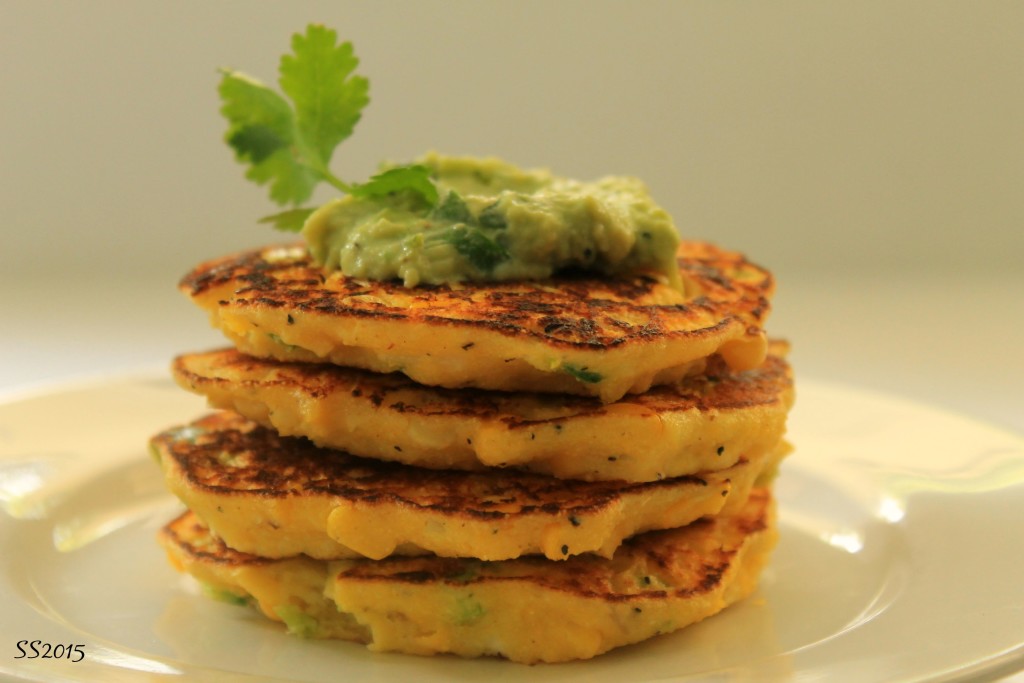 With corn still the star of the season, I tried a few corn cake recipes this week and the winner is……………this one (with a a big nod to WSJ)!! It's healthy, savory, spicy and has a great texture that holds up well to toppings. A great appetizer or the perfect side to grilled chicken, flank steak or really anything you're planning for this unofficial last weekend of summer.
Corn Fritters with Cilantro Lime Sauce
Serves 4 (makes about 16)
½ cup quick-cooking polenta or grits, or fine-ground cornmeal
2 cups corn kernels, cut from 2-3 ears of corn (I used 3)
1 small shallot, diced fine (about 3 tablespoons)
1 small jalapeño, seeds and membrane removed, diced fine (about 2 tablespoons)
½ teaspoon cumin
¾ teaspoon salt, plus extra for seasoning
¼ teaspoon black pepper, plus extra for seasoning
¾ cup plain non fat Greek yogurt
1 tablespoons olive oil, plus extra for frying
3 eggs
Sauce
¼ cup chopped cilantro (or more or less to taste)
1/2 cup greek yogurt
Juice from 1/2 lime (about 1/2 tablespoon)
I added a avocado to the sauce…..yum
**Batter can be made ahead and chilled.
 In a large bowl mix polenta with corn, shallots, jalapeño, cumin, salt and pepper. Add yogurt, 1 tablespoons olive oil, 3 eggs. Mix well with fork. Let rest 5 minutes.
 Set large nonstick frying pan over medium heat for 1-2 minutes. Pour in 1 teaspoon olive oil (or enough to just coat the bottom of the pan). Once hot, spoon 2 tablespoons of batter per cake into pan. Spread with the back your spoon to even out the batter. Season with a pinch of salt. Cook cakes 2-3 minutes, or until golden. Flip and cook 1 minute, or until golden.
Mix Greek yogurt, lime juice, and cilantro together with a fork. Top fritter with a teaspoon of sauce.
From: Alexandria's kitchen (adapted from The Wall Street Journal)