Zucchini, Rice And Cheese Gratin
September 19, 2015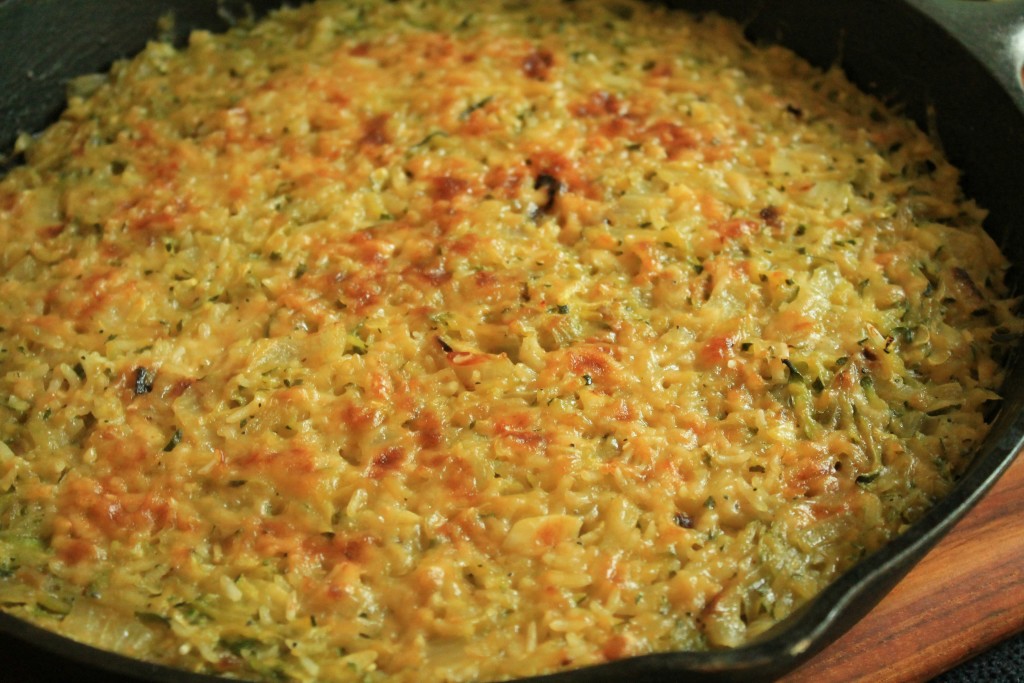 Not everyone gets excited about zucchini. But when "goat girl" showed up with a bag of these end-of-summer veggies along with tons o' tomatoes, my search for a great dish began. This original Julia Childs recipe is quick and easy and is featured on many fantastic food blogs. You will find most ingredients in your pantry and the end result will surprise you!
Zucchini, Rice and Cheese Gratin 
Serves 6
2 1/2 pounds zucchini
2 1/2 teaspoons kosher salt
1/2 cup plain, uncooked white rice
1 medium onion, minced (about 1 cup)
5 tablespoons olive oil, divided
2 large cloves garlic, minced
2 tablespoons flour
Milk or chicken broth, as needed
2/3 cup grated Parmesan cheese, divided
Salt and pepper
Wash zucchini and trim ends. Halve lengthwise, and if seeds are (very) large, scoop them out. Coarsely grate (so quick and easy in a processor, with the grating attachment) and place in a colander set over a bowl. Toss with kosher salt. Let drain for approximately 20 minutes.
Save drained liquid. If it's very salty, rinse and drain it again (not saving liquid this time). Squeeze all of the zucchini in handfuls, gently, collecting any juices in the bowl of drained liquid. Blot dry on paper towels.
At this point the recipe calls for cooking the rice (al dente, 5 minutes). Skip this step…..the rice cooks in the liquid with zucchini while baking in the oven!
In a large frying pan, cook the onions slowly in 3 tablespoons oil for 8 to 10 minutes until tender and translucent. Raise heat slightly and stir several minutes until very lightly browned. Stir in the grated and dried zucchini and garlic; season with salt and pepper. Toss and turn for 5 to 6 minutes until the zucchini is almost tender. Sprinkle in the flour, stir over moderate heat for 2 minutes, and remove from heat.
Measure the drained liquid from the zucchini. If you have less than 2 1/2 cups, add milk to bring the level up to it. (I used low sodium chicken broth…but only need 1/2 cup)
Stir the liquid into zucchini mixture, return pan to stove over medium-high heat and bring to a simmer, stirring. Remove from heat again, stir in the rice and all but 2 tablespoons cheese. Taste and adjust seasoning if needed.
Sprinkle with reserved cheese and remaining olive oil.
Heat oven to 425 degrees. Bake until bubbling and browned on top, about 25 to 30 minutes. (Cover with foil the last 5 minutes if it browns to quickly.) The rice should absorb all the liquid. Serve immediately.
Adapted from: Julia Childs (Mastering the Art Of French Cooking)/ Smitten Kitchen/Food  52/ Sprouted Kitchen