Tomato Sauce With Onion And Butter
September 23, 2015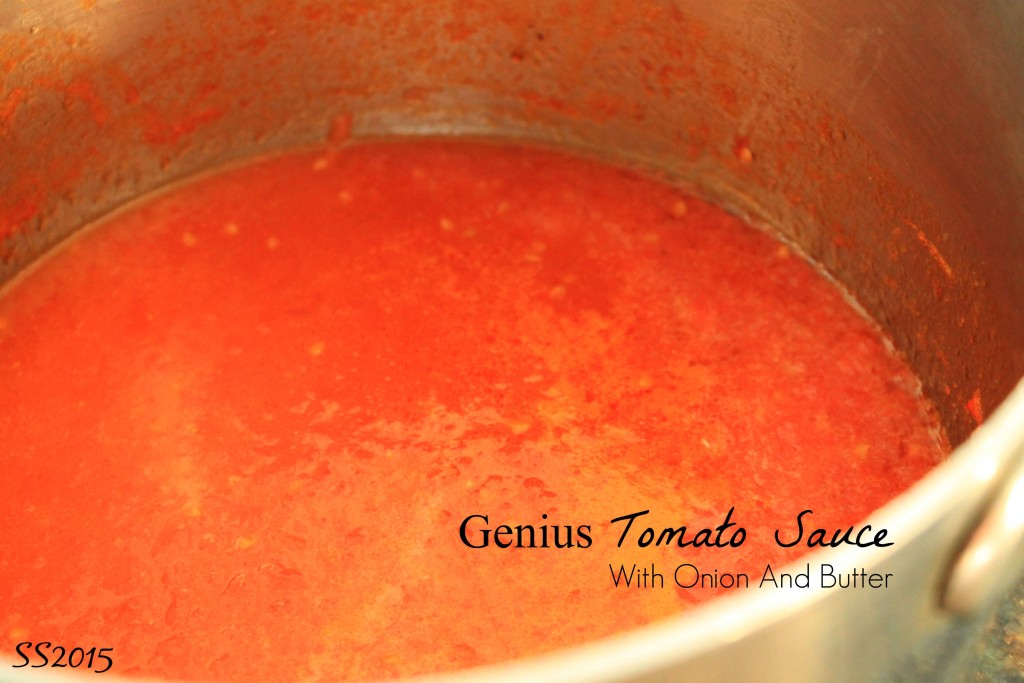 Every Wednesday, Food 52 prints a recipe they claim "Genius". Columnist Kristen Miglore explains:
"There are good recipes, and great ones — and then there are genius recipes. Genius recipes surprise us and make us rethink cooking tropes. They're handed down by luminaries of the food world and become their legacy. They get us talking and change the way we cook. And, once we've folded them into our repertoires, they make us feel pretty genius" 
You all probably have your go-to tomato sauce. Although never complex, mine changes with what's on hand. But this "Genius" recipe calls for 3 ingredients. THREE. Tomatoes (fresh or canned), 1 onion and 5 tablespoons of  butter. Butter? 5 tablespoons? I KNOW…..don't substitute. (Really, those 500 calories divided between 4-6 people just don't add up to THAT much!) These three simple ingredients create a thick, rich, full flavored sauce. (To be honest, for Randy and myself, I will use about 1/2 cup or more of my very best olive oil instead of butter)
This recipe comes from Marcella Hazan, who has been credited with making simple, good Italian food since 1973. Hazan recommends scoring, blanching and skinning the tomatoes in preparation for cooking. Steppy for sure!!! So when I came across this creative and quick technique for skinning a tomato, I thought…now that is GENIUS!!! 
Tomato Sauce with Onion and Butter
Serves 6 (sauce for 1 pound of pasta)
2 pounds fresh, ripe tomatoes, prepared as described below, or 2 cups canned imported Italian tomatoes, cut up, with their juice
5 tablespoons butter
1 medium onion, peeled and cut in half
Salt to taste
Put either the prepared fresh tomatoes or the canned in a saucepan, add the butter, onion, and salt, and cook uncovered at a very slow, but steady simmer for about 45 minutes, or until it is thickened to your liking and the fat floats free from the tomato. Stir. Taste and correct for salt.
Before tossing with pasta, you may remove the onion (as Hazan recommended) and save for another use, but many opt to leave it in. Serve with freshly grated parmigiano-reggiano cheese. If desired, garnish with fresh basil.
Making Fresh Tomatoes Ready for Sauce
Or review the video above!!
Fresh, ripe plum tomatoes (or other varieties, if they are equally ripe and truly fruity, not watery)
The blanching method: Plunge the tomatoes in boiling water for a minute or less. Drain them and, as soon as they are cool enough to handle, skin them, and cut them into coarse pieces
The freezing method (from David Tanis, via The Kitchn): Freeze tomatoes on a baking sheet until hard. Thaw again, either on the counter or under running water. Skin them and cut them into coarse pieces.The food mill method: Wash the tomatoes in cold water, cut them lengthwise in half, and put them in a covered saucepan. Turn on the heat to medium and cook for 10 minutes. Set a food mill fitted with the disk with the largest holes over a bowl. Transfer the tomatoes with any of their juices to the mill and puree.
Adapted from: Food and Wine