Corn And Pancetta Salad
September 30, 2015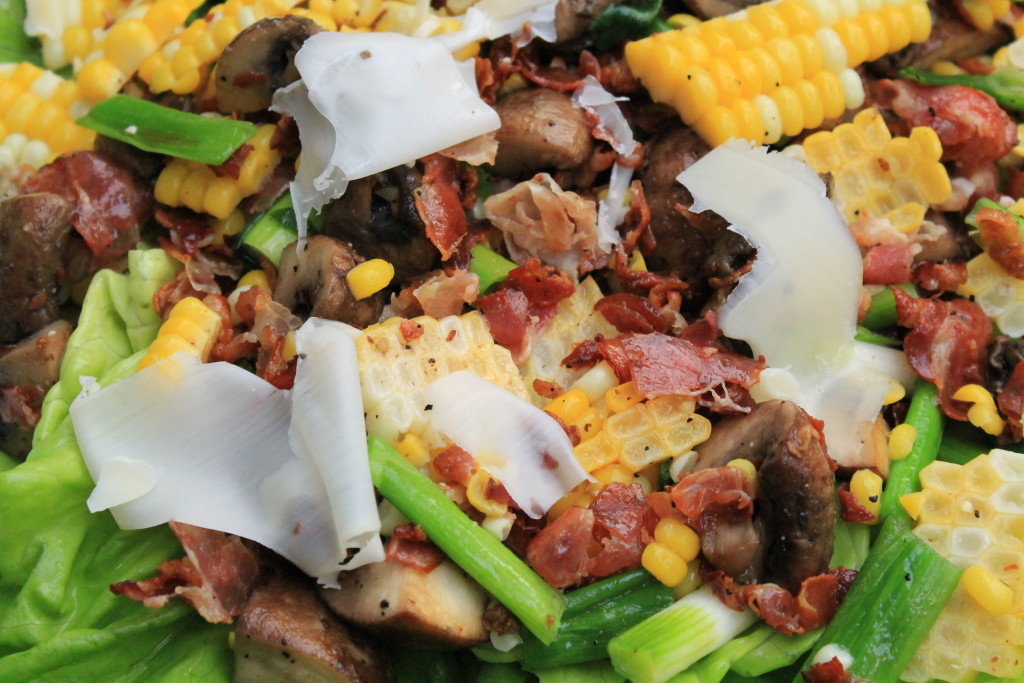 We still have corn at the farmer's market!! What a year. What a salad. Smokey charred scallions, roasted corn, crispy pancetta, earthy mushrooms, nutty Gruyere, refreshing greens and a bright dressing all combine for the perfect autumnal salad. Thanks Maureen for the inspiration!!
Corn And Pancetta Salad
Serves 6
6 large ears of corn
8 scallions
4 ounces pancetta, cut into 1/4 inch dice
1/2 cup olive oil
12 ounces cremini mushrooms, halved or quartered
Salt and pepper
1 teaspoon finely grated lemon zest plus 1/4 cup fresh lemon juice
1/2 teaspoon honey
1 teaspoon apple cider vinegar
4 ounces frisee. white and green parts only (4 cups) ( Randy doesn't like frisee, so we added in mixed greens)
2 tablespoons snipped chives
Shaved Gruyere cheese, for serving
In a pot of salted boiling water, cook the corn until crisp-tender, 5 minutes. Let cool, then cut the kernels off the cobs.
Meanwhile, in a large cast-iron skillet, cook the scallions over high heat until charred on the bottom, about 3 minutes. Cut into 2-inch lengths.
In the same skillet, cook the pancetta over moderate heat, stirring occasionally, until browned, about 5 minutes. Using a slotted spoon, transfer to a paper towel–lined plate to drain. Pour off all but 1 tablespoon of fat from the skillet.
Heat 2 tablespoons of the oil in the skillet. Add the mushrooms and season with salt and pepper. Cook over moderately high heat, stirring occasionally, until browned, 5 to 7 minutes.
In a large bowl, whisk the lemon zest and juice with the honey, vinegar and remaining 1/4 cup plus 2 tablespoons of olive oil. Season the dressing with salt and pepper. Add the corn, scallions, pancetta, mushrooms, frisée and chives and toss to coat; season with salt and pepper. Top the salad with shaved Gruyère and serve.