Herbed Rotisserie Chicken
October 10, 2015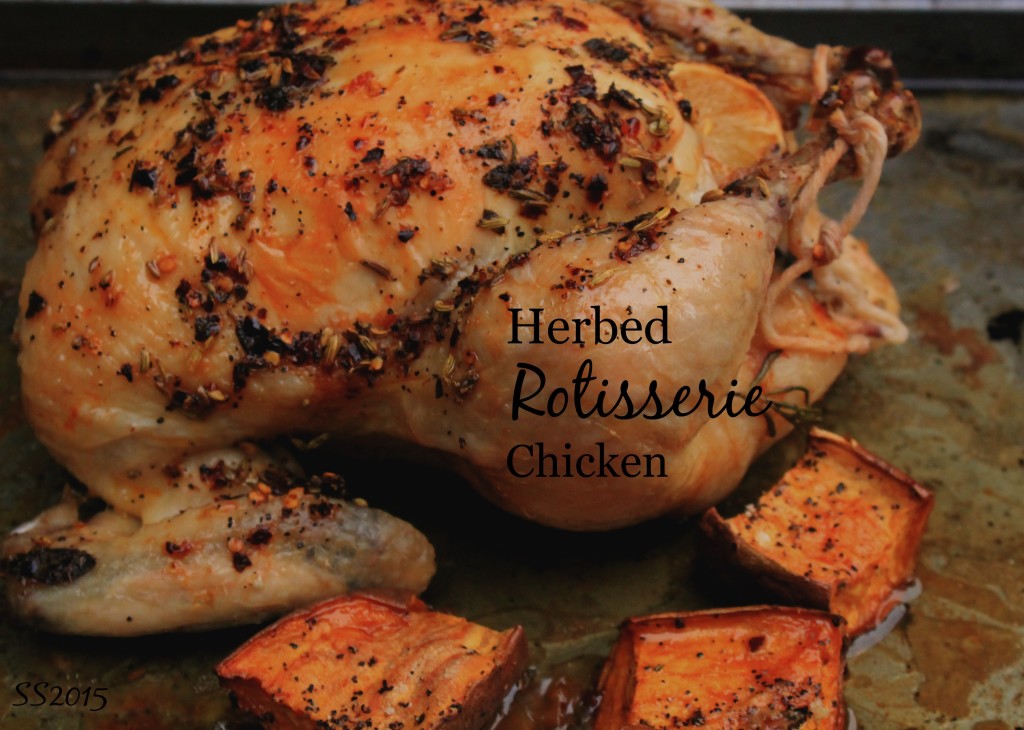 The store-bought rotisserie chicken seems to be a weekly staple for most families. I love the convenience of the ready-made bird however, they just don't come close to the flavor of roasting your own.
Many roasters are cooked at a high heat, slathered with butter and come out of the oven quickly.  This recipe takes only 10 minutes to prepare and 3 hours in the oven. A simple herb rub of fennel, hot pepper flakes, marjoram, thyme, salt and olive oil is all it takes. The bird is then stuffed with a head of garlic and lemon. Surround it with potatoes (I used sweet and Yukon).
What's better than your home filled with the aroma of those earthy smells? Perfect for a cool and lazy Sunday afternoon. This was such an amazing roasted chicken I made 3! One for us and one for each of the kids.
Herbed Rotisserie Chicken
2 teaspoons fennel seeds
1 teaspoon crushed red pepper flakes
2 tablespoons finely chopped fresh marjoram; plus 4 sprigs, divided
2 tablespoons finely chopped fresh thyme; plus 4 sprigs, divided
1 tablespoon kosher salt, plus more
½ teaspoon freshly ground black pepper, plus more
6 tablespoons olive oil, divided
1 3½–4 pound chicken
1 lemon, quartered
1 head of garlic, halved crosswise
2 pounds Yukon Gold potatoes, scrubbed, halved, or quartered if large
Preheat oven to 300°. Coarsely grind fennel seeds and red pepper flakes in a spice mill or with a mortar and pestle. Combine spice mixture, chopped marjoram, chopped thyme, 1 Tbsp. salt, ½ tsp. pepper, and 3 Tbsp. oil in a small bowl. Rub chicken inside and out with spice mixture. Stuff chicken with lemon, garlic, 2 marjoram sprigs, and 2 thyme sprigs. Tie legs together with kitchen twine.
Toss potatoes with remaining 3 Tbsp. oil on a rimmed baking sheet; season with salt and pepper. Push potatoes to edges of baking sheet and scatter remaining 2 marjoram and 2 thyme sprigs in center; place chicken on herbs. Roast, turning potatoes and basting chicken every hour, until skin is browned, meat is extremely tender, and potatoes are golden brown and very soft, about 3 hours. Let chicken rest at least 10 minutes before carving.
Adapted from: Bon Appetit