Apple Dutch Baby
October 20, 2015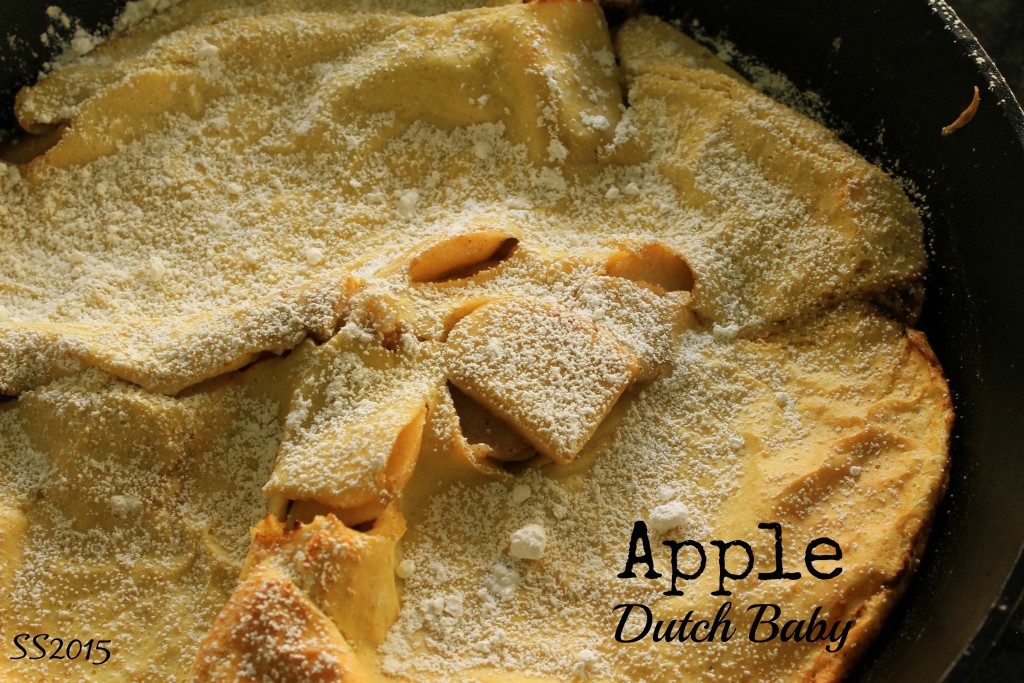 Apples on apples on apples…..this is a tasty way to take advantage of Fall's greatest fruit. It's an eggy creation that is a cross between a pancake and a crepe.  This easy, delicious dish with its crisp golden brown edges and popover texture offers a weekend breakfast better than your local waffle house.
Serves 4
Apple Cider Syrup
4 cups apple cider
2 tablespoons unsalted butter
1 tablespoon light brown sugar
1 teaspoon vanilla extract
½ teaspoon ground cinnamon
Dutch Baby
3 large eggs, room temperature
¾ cup whole milk, room temperature
¾ cup all-purpose flour
1 teaspoon vanilla extract
¼ teaspoon kosher salt
1 teaspoon ground cinnamon, divided
4 tablespoons unsalted butter, divided
1 large Pink Lady apple, peeled, sliced ¼" thick  (I used honey crisp)                                         
1 tablespoon light brown sugar
Powdered sugar for dusting
Apple Cider Syrup
*This syrup had a great flavor but did not thicken up as I would have liked. Maple syrup would work well also.
Bring cider, butter, brown sugar, vanilla, and cinnamon to a boil over medium-high heat in a large saucepan. Reduce heat and boil gently, whisking occasionally, until thick and syrupy, 30–45 minutes.
Syrup can be made 1 week ahead. Let cool; cover and chill. Bring to room temperature before using.
Dutch Baby
Preheat oven to 425 degrees. Whisk eggs, milk, flour, vanilla, salt, and 1/2 tsp. cinnamon in a medium bowl until smooth.
Melt 2 Tbsp. butter in a 10" skillet, preferably cast iron, over medium heat. Add apple and sprinkle with brown sugar and remaining ½ tsp. cinnamon. Cook, tossing often, until apple is coated and softened, about 4 minutes. Transfer to a plate.
Wipe out skillet and heat in oven until very hot, 8–10 minutes. Carefully add remaining 2 Tbsp. butter to skillet, tilting to coat bottom and sides. Add apple to center of skillet; pour batter over. Bake until pancake is puffed and golden brown around the edges and center is set but still custardy, 12–15 minutes. This is the aha moment!  Share this first look out of the oven…the pancake quickly deflats.
Serve with a dusting of powdered sugar and drizzle with apple cider syrup.
Adapted from: Bon Appetit