Roasted Cauliflower With Crunch Butter and Pickled Peppers
November 8, 2015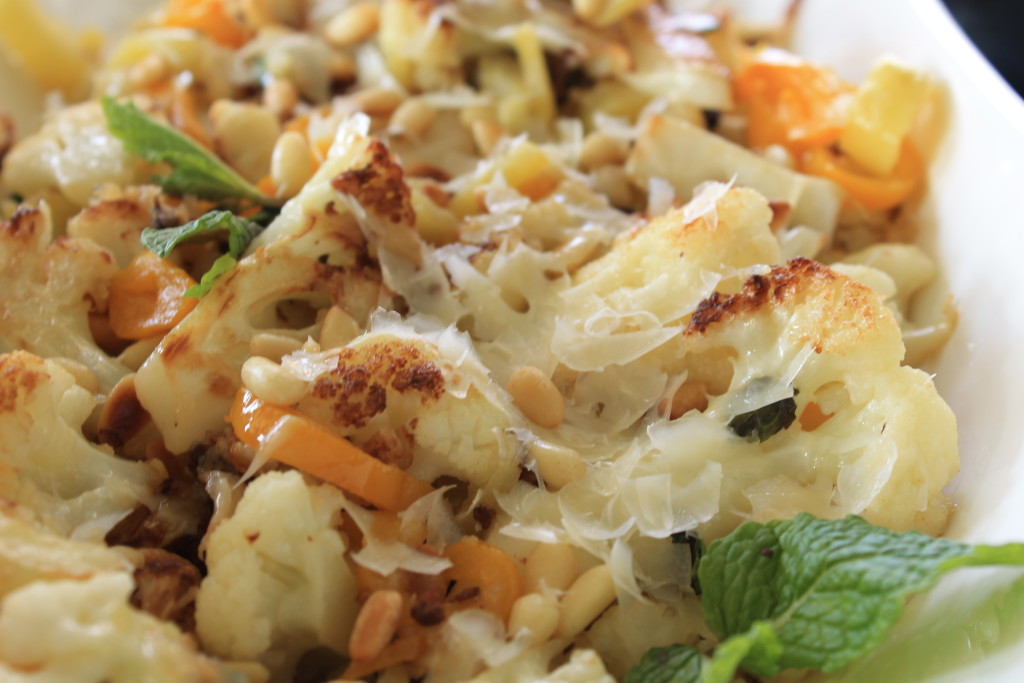 One of the Stephanie Izard's most popular and long running dishes at "Girl And The Goat" is roasted cauliflower with crunch butter and pickled peppers. She combines caramelized cauliflower with a topping that includes butter, garlic, Parmesan and panko bread crumbs. She pickles peppers and then tosses them with toasted pine nuts and mint. The recipe may seem steppy…it's not. While you are soaking the peppers, mash together the ingredients to make the butter. The cauliflower sautes and caramelizes within 10 minutes. Then toss in the remaining ingredients to create this unforgettable side dish. I'm adding this to my Thanksgiving line-up along with Crusted Butternut Squash.
Other holiday ideas...Butternut Squash Soup, Cauliflower Soup, Shredded Sprout and Kale Salad, Roasted Butternut Squash Salad, Spinach Salad with Dates and Almonds, Cauliflower and Caramelized Onion Tart, Sweet Potato Galettes, Twice Baked Sweet Potatoes with Bacon Brittle, Bacon Jam, Momofuku Crack Pie, Pumpkin Creme Brulee, Creme Brulee, Pumpkin Bread Pudding with Creme Anglaise, Pumpkin Roll, Apple Brandy Cider Cocktail and Brandy Alexander.
1 head cauliflower, quartered, outer leaves and core removed and cut into 1/4″ slices
3 tbsp. "crunch butter," room temp (recipe below)
1/4 c mint, torn into pieces + 1 tbsp set aside
1/4 c pine nuts, toasted + 1 tbsp. set aside
1/2 c Parmesan, grated + 1 tbsp. set aside
1/3 c pickled peppers (recipe below) (Or buy pickled peppers)
First make pickled peppers.
Heat oil in a large skillet. add cauliflower and cook over high heat until caramelized and soft, 6 minutes. Season with salt and cook an additional 2-3 minutes. Add crunch butter. when melted toss in mint, peppers, pine nuts, and Parmesan. cook an additional 2 minutes. Plate in a bowl and sprinkle with additional mint, pine nuts, and Parmesan.
yield: 1.5 cups (you only use a couple tablespoons!! 1/2 the recipe and freeze    the remainder)
2 tbsp Parmesan cheese, grated
6 tbsp Panko bread crumbs
In a bowl, mash the butter until softened with a fork (or potato masher). add the remaining ingredients and mix until fully incorporated.Freeze the remaining for the next time you make this.
yield: 1 qt. (you might want to half this recipe as you only use 1/3 cup)
I added a few baby orange peppers for seasonal color…..think red for Christmas.
3 ea. banana peppers, seeds removed, sliced into thin rings on a mandolin
3 ea. Hungarian peppers, seeds removed, sliced into thin rings on a mandolin
In a pot, bring vinegar, salt, and sugar to a boil. While still hot, pour the pickling liquid over the peppers.Let cool to room temperature, keeping the peppers submerged in the liquid.When cool, cover and refrigerate.