Skillet Chocolate Chip Cookie
December 30, 2015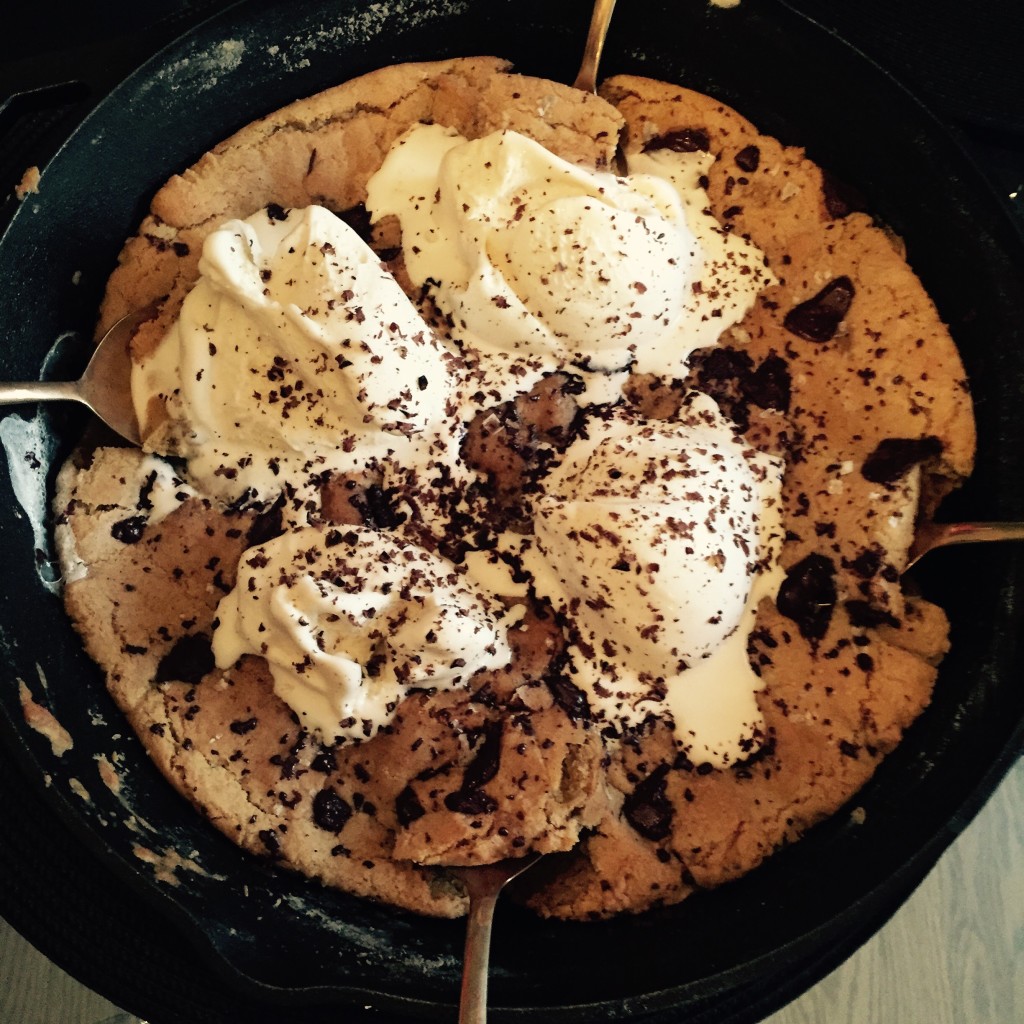 Mix AND bake a chocolate chip cookie all in one skillet!! This recipe had me at one skillet (and one spoon). Serve this giant baked cookie right out of the skillet with 4 scoops of ice cream and 4 spoons. Slightly under-cook for a gooey, chewy fun dessert. In the words of my kids, WHAT????!!!!!!! Indeed.
Skillet Chocolate Chip Cookie
1 stick butter
½ cups granulated sugar
½ cups light brown sugar
1 teaspoon pure vanilla extract
1 whole egg
1-½ cup all-purpose flour
½ teaspoons baking soda
¼ teaspoons salt
1 cup semi-sweet chocolate, cut in chunks (I used a dark chocolate, salted Fannie May bar!)
Flaked salt, to finish
Preheat oven to 350 degrees. Melt butter in an 8 inch cast iron skillet set over medium-low heat. (my skillet is bigger so the cookie was not as thick as I would have liked, but still great) Stir in sugars and vanilla and remove from heat. Let rest until pan is warm, but no longer very hot, about 5 minutes.
Crack an egg onto the butter and sugar mixture, and use a fork to whisk it into the mixture. Place flour, baking soda, and salt on top, and very carefully stir into the mixture until smooth and well-mixed. Stir in chocolate chunks. Sprinkle with flaked salt. Place in the oven for 15-25 minutes, (take out earlier than later for a chewy,  gooey middle) or until starting to turn golden on the top and around the edges, but still soft in the center.
Serve with vanilla ice cream, and spoons!!
**you could also drizzle caramel sauce and chocolate shavings.