Crispy Buffalo Cheddar Potato Nachos
January 9, 2016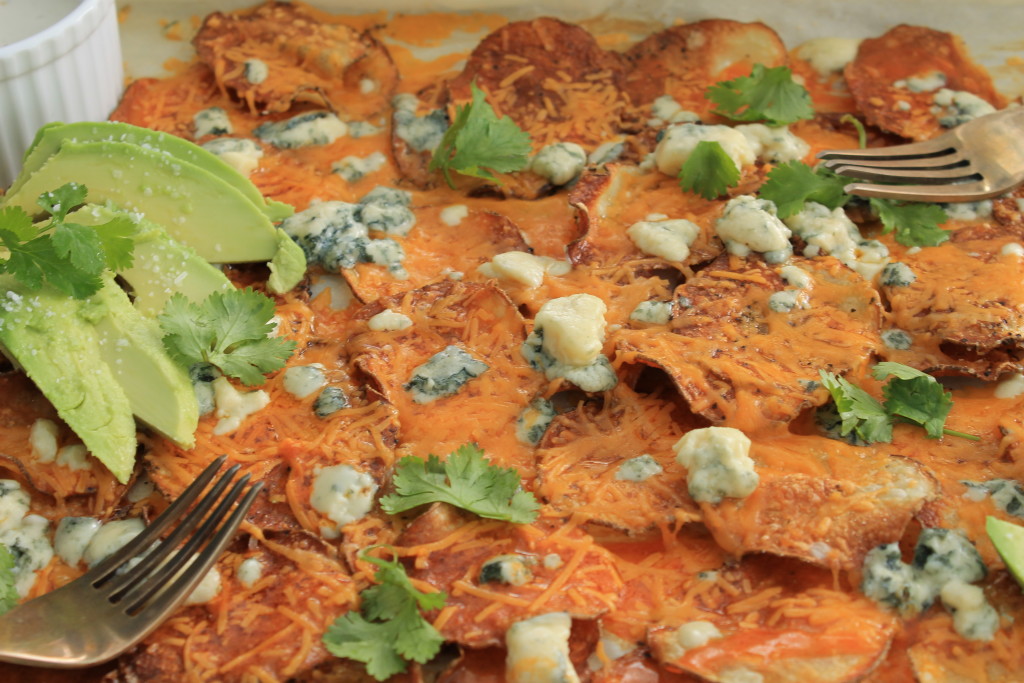 I'm very aware it's January. New year, new starts, new body, blah, blah, blah. It's also game month. Enjoy your kale Monday thru Saturday. Enjoy these tasty, savory, splurgy nachos while watching your favorite game or just feet up with a good book (The Past), a binge watch (Making A Murderer!) or a cozy fire!
Crispy Buffalo Cheddar Potato Nachos
Serves 4…(but really 2)
4 russet potatoes, slice in 1/4 inch rounds (I sliced them thinner)
4 tablespoons olive oil
1 teaspoon salt, divided
salt and pepper, to taste
1/2 cup butter, melted
1/2 cup hot sauce (like…Franks Hot Sauce)
6 ounces sharp cheddar cheese, shredded
4 ounces gorgonzola or blue cheese, crumbled
1 avocado, sliced
Chopped cilantro and green onion, for serving
Buttermilk ranch, for serving
Preheat the oven 425 degrees. Line 2 baking sheets with parchment paper. Divide the thinly sliced potato rounds among the baking sheets. Drizzle the potatoes evenly with olive oil. Sprinkle with 1/2 teaspoon salt and then season the potatoes to taste with salt and pepper. Place in the oven and bake for 20-25 minutes, watching closely to monitor baking. While the potatoes are baking, whisk together the butter, hot sauce and remaining 1/2 teaspoon salt. When the potatoes are crisp and lightly golden, remove them from the oven and drizzle with the buffalo sauce. Add the cheddar and blue cheese. Return the pans to the oven and bake for 5 minutes or until the cheese is melted. Remove and top with fresh cilantro, green onions and sliced avocado. Serve with ranch dressing.
Adapted from: Half Baked Harvest