Super Bowl Potato Skins
February 5, 2016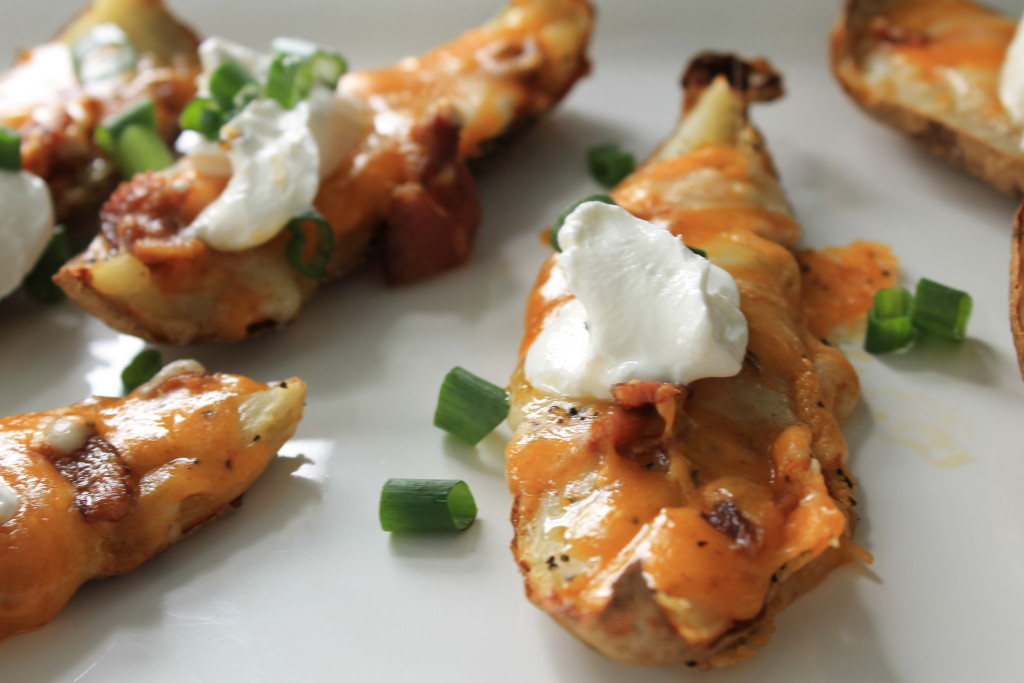 Super Bowl Sunday will not be your healthiest day of the year, so just go with it. And you may not be a fan of the big game, so turn your focus to the other competition in the room…the food. These crispy boats are filled with sharp cheddar, Monterey jack and bacon. Top with sour cream and chopped scallions to finish strong. It's one day….give the people what they want.
Potato Skins
Makes 16 wedges
4 large baking potatoes
Vegetable oil
6 slices of bacon, cooked until crisp and diced
2 cups grated sharp cheddar cheese
2 cups grated monterey jack or other mild melting cheese
1/2 teaspoon cayenne pepper
Kosher salt and freshly ground black pepper
Sour cream and chopped scallions, for serving
Preheat the oven to 425 degrees. Wash the potatoes and thoroughly dry them. Rub the potatoes with vegetable oil and place on a lightly oiled rimmed baking sheet. Sprinkle with salt and pepper. Bake for 60-70 minutes, or until the potatoes are tender. Flip them over halfway through baking to even out the cooking.
Leave the oven on, and set aside potatoes until they are cool enough to handle. Carefully cut each potato into quarters, lengthwise. Use a spoon to scrape out all but 1/2-inch of potato from each wedge. Place potato skins on sheet, spacing about 1-inch apart. Sprinkle with salt and pepper. Return them to the oven and bake for 10 minutes, to crisp them up.
Meanwhile, combine the shredded cheeses, bacon bits and cayenne pepper in a medium bowl.
Remove the skins from the oven and top each one with a mound of the cheese mixture. Return to the oven and bake until the the cheese is melted, about 10 minutes.
Serve hot from the oven topped with sour cream and green onions.
Adapted from: Lottie and Doof