Herbed Shrimp Capellini with Spicy Breadcrumbs
February 9, 2016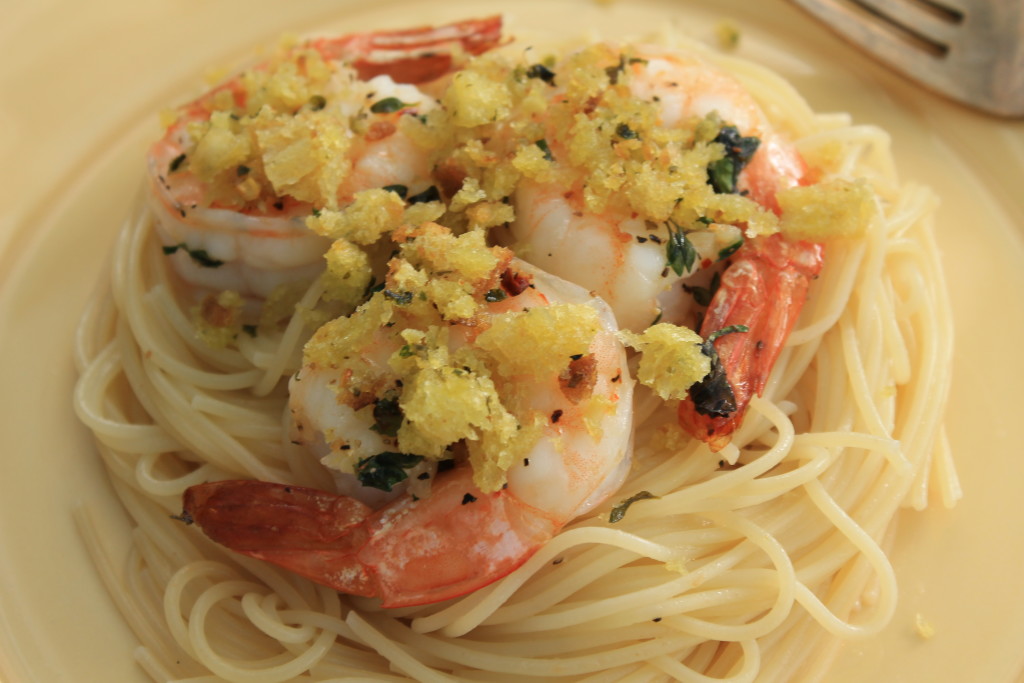 If you're planning a romantic evening at home this Valentine's Day perhaps I can help. This entree is not only delicious and easy, it will certainly set the tone for this special night in. Breadcrumbs are combined with fresh herbs, lemon juice and butter, then baked for 10 minutes. You then marinate the shrimp with a similar flavor profile as the breadcrumbs then cook the pasta and combine. Pair with a side salad, finish off with chocolate and of coarse, enjoy with sparkling wine or champagne. More suggestions for the evening include…Caramelized Seared Scallops, Salmon with leeks and Beurre Blanc Sauce, Cioppino, Lobster Risotto, Beet and Cheese Napoleons, Blood Orange and Fennel Salad, SS Kale Salad, Chocolate Lava Cake, Creme Brûlée and Salted Butter Caramel Chocolate Mousse.
Bread Crumbs
1/4 pound Italian bread, torn
2 tablespoons finely chopped parsley
2 tablespoons finely chopped oregano
2 garlic cloves, finely grated
1/2 teaspoon crushed red pepper
1/2 stick unsalted butter, melted
1 tablespoon fresh lemon juice
Kosher salt
Pepper
Shrimp
20 jumbo shrimp (2 pounds), shelled and deveined
1 small shallot, minced
2 tablespoons minced parsley
2 tablespoons minced basil
1 1/2 teaspoons minced oregano
1/2 teaspoon minced thyme
1/4 teaspoon crushed red pepper
1/2 cup plus 2 tablespoons extra-virgin olive oil, plus more for serving
Kosher salt
Pepper
3/4 pound capellini or angel hair pasta
3 tablespoons fresh lemon juice
Herbed Shrimp Capellini
Serves 6
Bread Crumbs
Preheat the oven to 350 degrees. In a food processor, pulse the bread with the parsley, oregano, garlic and crushed red pepper until coarse crumbs form. Add the melted butter and lemon juice and pulse until evenly moistened. Season with salt and pepper, then spread the bread crumbs in an even layer on a rimmed baking sheet. Bake for about 10 minutes, until golden and crisp; let cool.
Shrimp
Preheat the broiler and bring a large saucepan of water to a boil. In a large bowl, toss the shrimp with the shallot, parsley, basil, oregano, thyme, crushed red pepper and 1/4 cup of the olive oil. Season with salt and pepper.
Arrange the shrimp in an even layer on a large rimmed baking sheet (not on parchment paper, as photographed). Broil 6 inches from the heat for 5 to 7 minutes, until lightly browned and just cooked through; flip the shrimp halfway through broiling.
Meanwhile, cook the capellini in the boiling water until al dente. Drain and transfer to a serving bowl. Add the lemon juice and the remaining 1/4 cup plus 2 tablespoons of olive oil and toss well. Season with salt and pepper and toss again. Arrange the shrimp over the pasta and sprinkle some of the spicy bread crumbs on top. Serve right away, passing additional bread crumbs and olive oil at the table.
Adapted from: Andrew Zimmern