Lentil Soup With Sweet Potatoes And Spinach
February 18, 2016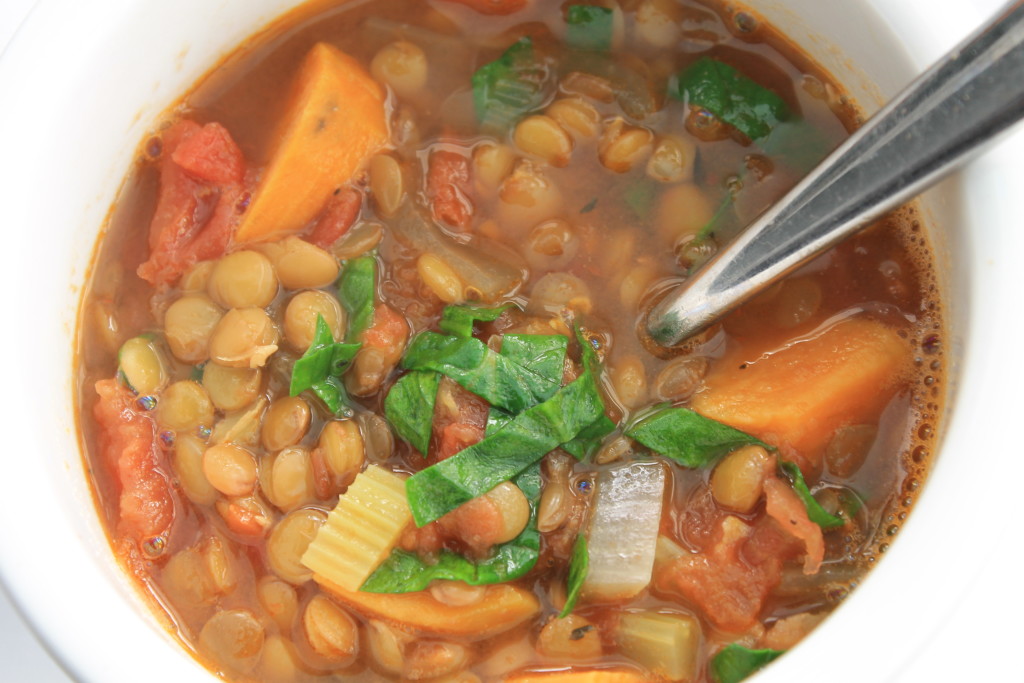 Lentils are small but mighty, often referred to as "the poor man's meat." A member of the legume family, they are an excellent source of cholesterol-lowering fiber (16 grams per cup). They are also beneficial in managing blood-sugar disorders. Lentils provide  excellent amounts of seven important minerals, our B-vitamins and protein (18 grams per cup). All with virtually no fat.
This soup is nutty and earthy in flavor and packed with yummy veggies. We incorporate this powerhouse meal about every 10 days in our house during the chilly months. It pulls together quickly with most of these ingredients on hand and also freezes well. Double up.
LENTIL SOUP WITH SWEET POTATOES AND SPINACH
SERVES 8-10
1 tablespoon olive oil
1 onion, chopped
3 cloves garlic, minced
1 carrot, diced      (I add about 6 or more, love, love!)
1 celery stalk, diced       (I add a few)
2 small sweet potatoes, peeled and cut into 1/2 inch cubes
1 1/2 cups brown lentils
4 (15 ounce) cans chicken broth (or veggie)
2 cups water
2 cans (15 ounce) diced tomatoes
2 bay leaves
1 teaspoon dried thyme
1 tablespoon chopped fresh rosemary
Salt and pepper, to taste
2 cups chopped fresh spinach
****Alternative flavor profile: Eliminate thyme and rosemary . Instead add 2 teaspoons curry and 2 teaspoons cumin. Taste to adjust.
In a large pot, heat the olive oil. Add the onion and garlic. Saute until onion is tender and garlic is light brown in color. Add carrot, celery, and sweet potatoes. Cook until vegetables soften, about 5-7 minutes.
Stir in the lentils, vegetable broth, and water. Add the diced tomatoes, bay leaves, thyme, and rosemary. Season with salt and pepper and stir. Cook on medium-low heat for about 35-40 minutes or until lentils are cooked.
Add the fresh spinach and stir. Season with salt and pepper, to taste. Remove bay leaves and serve warm.