Chicken Pot Pie Pizza
February 27, 2016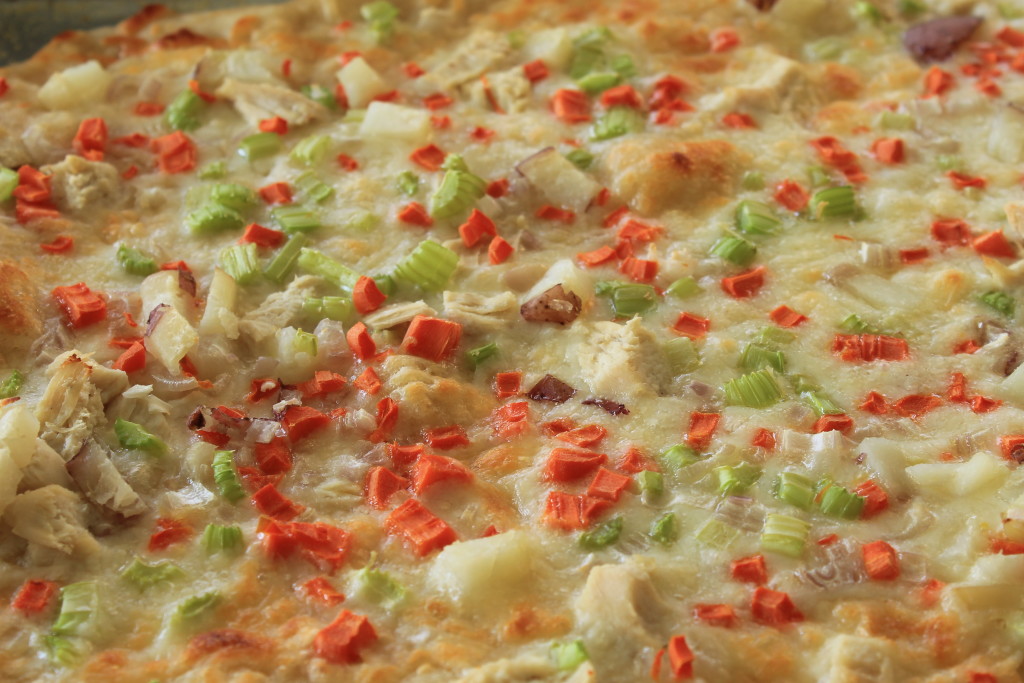 Who can resist a bowl of savory chicken pot pie, topped with a buttery, flakey crust? Who can resist pizza? When the two become one magic happens. I rolled out some store bought dough, made a quick béchamel, topped with diced veggies, shredded chicken and diced baby potatoes. I baked til it was crispy. Then I had my sous chef (aka Randy) give it a taste. His response was "this is chicken pot pie pizza!!." It is honestly crazy that this simple concoction combines two family favorites into one.
Chicken Pot Pie Pizza
1 tablespoon flour
1 tablespoon of butter
1/2 cup chicken stock
1/2 cup shredded mozzarella
1/3 cup shredded cooked chicken
1/4 small onion, diced
Couple of baby potatoes, boiled and diced
1 carrot, diced
1 stalk celery, diced
1 ball no-knead pizza dough or store bought pizza dough
Salt and pepper, to taste
Arrange a rack in middle of oven and preheat to 450 degrees.
If you have any cooked chicken and potatoes on hand, perfect. Shredd the chicken and cube the potatoes. OR boil a couple of potatoes and cook a small chicken breast (then cube or shredd).
In a small pan, heat up the butter over medium heat. When melted, sprinkle on the flour and stir until the flour is completely incorporated. Pour in the chicken stock in a thin stream while whisking. Whisk occasionally, on medium heat, until slightly thickened. Season with salt and pepper, remove from the heat and let cool slightly.
Lightly oil a baking sheet. Roll out the  dough to your desired shape.  Spread the slightly cool béchamel evenly on the dough. Top with shredded mozzarella, cooked chicken, diced onions, boiled and cubed potatoes, diced carrots, and diced celery. Season with salt and pepper. Place in the oven to bake for 12-15 minutes, or until the crust is puffy, crisp and slightly blistered.
Adapted from: i am a food blog  (A Favorite!)