Feta Tapenade Tarte Soleil
March 5, 2016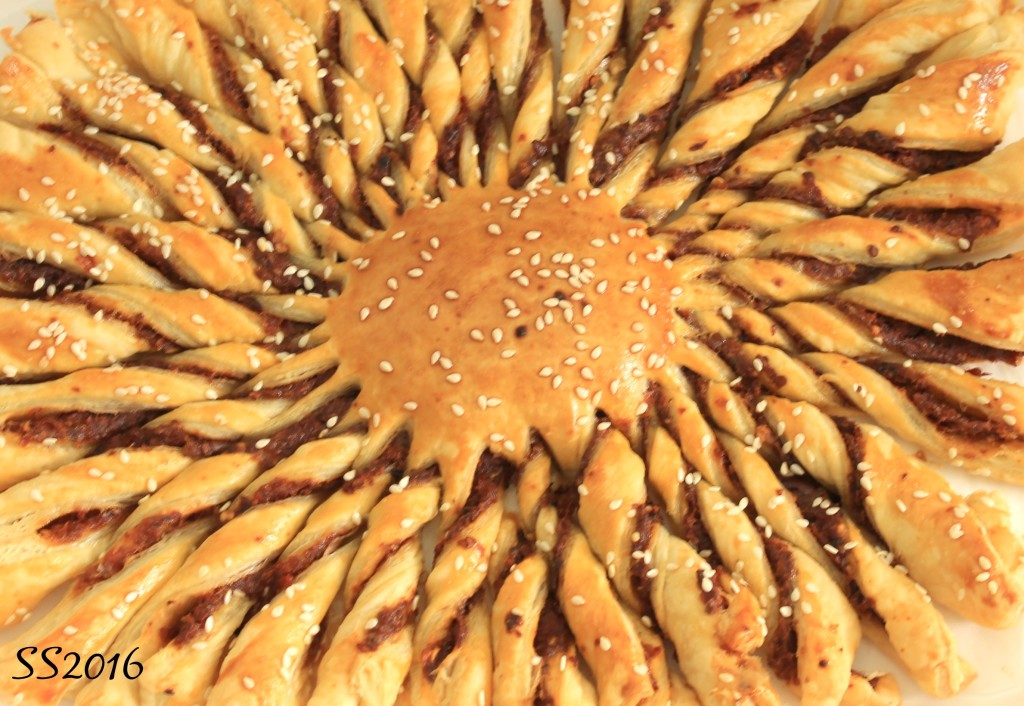 Tarte Soleil or sun pie. This impressive appetizer is much easier to prepare than it looks. It's  made with store-bought puffed pastry that is defrosted overnight. In a food processor the tapenade is quickly made with sun-dried tomatoes, kalamata olives, garlic, oregano, olive oil and salt and pepper. With some creative twists and a feta dip, you have a stunning, savory Mediterranean dish.
Feta Tapenade Tarte Soleil
Filling
1/2 cup sun-dried tomatoes in oil, drained
1/3 cup pitted kalamata olives
1 teaspoon dried oregano or 2 teaspoons chopped fresh oregano leaves
1 large garlic clove, peeled
1 tablespoon olive oil or reserved oil from tomatoes, plus more if needed
Salt and freshly ground black pepper or red pepper flakes to taste
Assembly
2 packages puffed pastry  (thaw in fridge overnight)
1 egg yolk beaten with 1 teaspoon water
1 tablespoon sesame to sprinkle (optional)
Dip
6 ounces feta, crumbled
2 ounces cream cheese
1/3 cup olive oil
2 tablespoons lemon juice
Coarse or kosher salt, to taste
Freshly ground black pepper
Make the filling: Blend ingredients in a food processor until finely chopped and spreadable. Mixture will be thick. You can thin it with more olive oil if needed.  Adjust seasonings to taste. Set aside.
Heat oven to 350 degrees.
Assemble the tart: Roll first package puffed pastry flat on a large piece of parchment paper or reusable baking mat into a 12-inch circle; use a 12-inch round plate or bowl to mark the size for a clean cut. Repeat with second dough, setting one aside in the fridge until needed.
Place pastry on a parchment. Spread with filling to all but 1-inch from edge. Dab edges with water and place second round on top. Set a small glass upside down in the middle. Being careful not to cut through parchment paper or baking mat, cut away from glass (not through center) in quarters, or at the 3-, 6-, 9- and 12 o'clock marks. Cut through each quarter again, making 8 strips, and again, making 16 strips, and one last time so that you have 32 "rays" of pastry emanating from the center. If at any point in the cutting the pastry too soft and getting difficult to cut, place the tray in the freezer for a few minutes to firm it back up.
Remove glass. Place finger near center of each ray and gently twist each strand a few times. Beat egg yolk with 1 teaspoon water; brush it over pastry and sprinkle with seeds, if desired.
Bake for 30 to 35 minutes, until golden brown all over.
Meanwhile, make whipped feta dip: Blend all filling ingredients in a blender or food processor until smooth. Adjust seasonings to taste. Place in bowl for dipping.
Remove tart from oven, let cool on baking sheet for 10 minutes then transfer to a serving platter. Tear off rays of sun, dip in whipped feta.
Adapted from: Smitten Kitchen