Eggs in Purgatory
April 2, 2016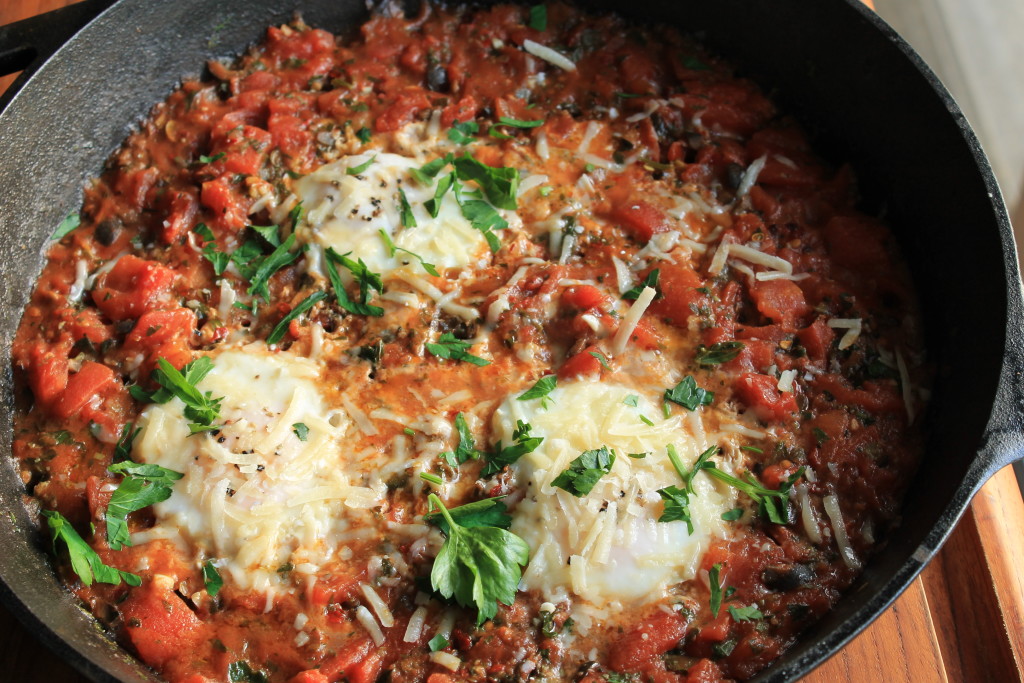 Eggs in Purgatory. There are plenty of theories behind the name of this dish. Growing up Catholic, I still get a little anxious just hearing the word Purgatory. Hangin' out in limbo is not a place I ever want to be. I choose to think of these eggs poached in a fiery red sauce as……Heavenly.  There are many variations on this classic dish. The Middle East calls it Shakshouka, seasoned with chili peppers and onions, often spiced with cumin. Mexicans have their huevos rancheros. My radar continually goes to the Classic Italian version, a flavorful, briny take seasoned with capers, olives, oregano and Parmesan. You can certainly create your own sauce or use your leftover sauce from yesterday's pasta. Serve as brunch, linner or dinner with a simple green salad and crusty bread.
Eggs In Purgatory
Serves 1 to 3
1 to 2 tablespoons olive oil, plus extra to finish
1 to 2 cloves garlic, peeled
1/4 cup flat-leaf parsley leaves, plus extra for garnish
2 tablespoons pitted black olives
1 tablespoon capers, drained, rinsed
1 anchovy filet, minced, or more to taste (adds incredible flavor, melts down for a briny flavor)
1 teaspoon dried oregano or double that of fresh
1/8 teaspoon crushed red pepper flakes, or more to taste
1 (14-ounce) can diced or crushed tomatoes
Salt, to taste
1 to 4 large eggs
1/4 cup grated parmesan or pecorino cheese, plus extra to finish
Bread for toasting, I like a rustic Italian.
(*Great way to use leftover mariana sauce. To taste add additional ingredients from the above list).
Chop garlic, 1/4 cup parsley, olives, capers, anchovies, oregano and pepper and until they are finely chopped. Heat a medium size skillet over medium heat. Once hot, pour olive oil. When warm add parsley mixture to pan and cook, stirring, 2 minutes. Add tomatoes (carefully they will splatter) and combine. Lower heat and simmer for 5 minutes. Add salt and pepper to taste.
Make a small indentation in the sauce for each egg you're using, and crack them in. Sprinkle the eggs with parmesan, salt and pepper and cover the pan partially with a lid. I used foil because my cast iron pan has no lid. Let the eggs cook for 5 minutes (see Note) or until the whites are set and the yolks loose. You can also finish them off in 350 oven for approx. 10 minutes). Toast (under the broiler) the bread and brush with olive oil and coarse salt.
To finish drizzle with a little extra olive oil, cheese and parsley. Serve with toasted bread.
Note: The eggs will continue to cook when you remove them from the heat.  I recommend taking them off the stove with the whites almost set.
Adapted from: Smitten Kitchen