Pancetta Wrapped Asparagus with Citronette
April 16, 2016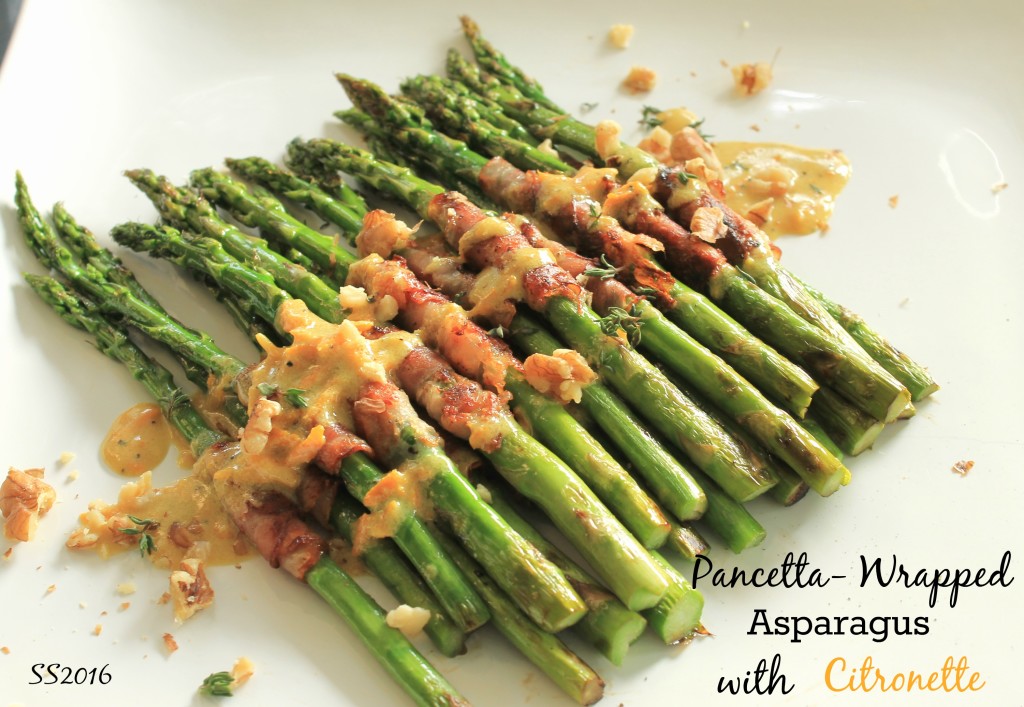 It's a wrap! You've seen it before… sliced pancetta tightly wrapped around beautiful spears of asparagus. But have you made them? Have you made them with a tangy Citronette? NOT to be missed. This is just one way to serve the star of spring veggies. Make sure you have the deli slice the pancetta very thin so it will wrap well and crisp up. Delicious as a first course or the perfect side to salmon, roasted chicken,  burrata cheese or…that incredible egg. My next post will turn these wraps into an entree.
Pancetta Wrapped Asparagus with Citronette
Serves: 6
2 pounds medium asparagus
1/2 pound very thinly sliced pancetta
Finely grated zest and juice of 1 orange
2 teaspoons Dijon mustard
1/4 cup extra-virgin olive oil
Salt and freshly ground pepper
2 teaspoons chopped thyme
Chopped, toasted walnuts, for garnish, optional
Tightly wrap each asparagus spear in a slice of pancetta and refrigerate until chilled, about 20 minutes.
Light a grill or preheat a grill pan. In a small bowl, stir the orange zest and juice with the mustard and olive oil; season with salt and pepper. Grill the asparagus over moderate heat, turning often, until they are just tender and the pancetta is crisp, about 5 minutes total. Transfer the asparagus to a platter and drizzle with the dressing. Sprinkle with the thyme and serve (serve immediately before the pancetta stays crisp).
Adapted from: The Bitten Word