Pancetta Wrapped Asparagus On Pasta with a Poached Egg and Lemon Butter
April 23, 2016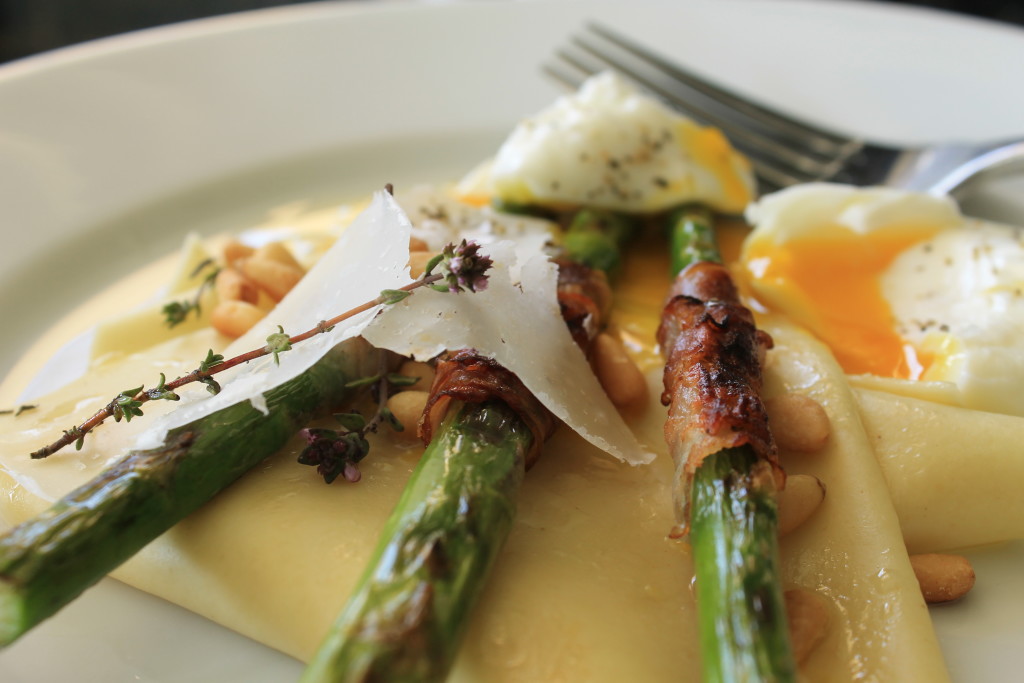 I'm turning my last post, asparagus wraps, into an entree. The season's signature vegetable is not only delicious, it has incredible health benefits. Low in calories, fresh asparagus spears are a good source of anti-oxidants and vitamins, A, B- complex, C, K and E.
This recipe, adapted from Canal House, uses pancetta wrapped asparagus grilled until crisp to absorb that smokey flavor.  The spears are placed over pasta sheets and drizzled with lemon butter sauce. Add Parmagiano-reggiano, pine nuts and a poached egg….ohhh and when the lemon and yolk combine….you have a rich, creamy sauce. (Think Pasta Carbonara!) I'm thinking about this recipe for Mother's Day. Other menu ideas……Eggs In Purgatory, Avocado Toasts, Huevos Rancheros, Meyer Lemon Ricotta Pancakes with blueberry Compote and Caprese Eggs Benedict.
Asparagus on Pasta with a Poached Egg and Lemon Butter
Serves 2
4-6 tablespoons butter (I used 4 or a bit less)
Juice of ½ lemon and zest of 1/2 of the lemon
About 10 spears of asparagus, peeled and trimmed
10 slices of very thin pancetta
2 eggs
4 sheets of pasta, each about 4 inches long ( I used flat lasagna sheets)
1 small hunk parmigiano-reggiano
2 tablespoons toasted pine nuts
Maldon sea salt, optional
Salt and pepper
Wrap asparagus tight with one slice of pancetta. Spray a grill pan with oil or lightly coat with vegetable oil. On a med-high heat crisp up the asparagus. (about 4 minutes) Place on paper towels to drain.
**Have your two pots of boiling water ready to go at the same time. (Boil when you start grilling the asparagus).
Over medium-high heat cook pasta (about 2-3 minutes). Using a slotted spatula or a long-handled strainer, divide the pasta between 2 warm plates, letting most of the water drip off before putting it on the plate.
Poach your eggs…crack the eggs into 2 small cups. Give the simmering water a good circular stir, then tip 1 egg at a time into the center of the swirling water. Simmer the eggs over medium-low heat until the whites are a bit firm and the yolks remain soft, about 3 minutes. Transfer the eggs to the dishcloth to drain.
Melt the butter in a medium skillet over medium-low heat and swirl in enough of the lemon juice and zest to suit your taste. Keep warm over low heat.
To plate, start with a bit of the butter lemon sauce, add two sheets of pasta, more sauce, layer the asparagus,  sprinkle pine nuts, parmesan (using a vegetable peeler shave slices), salt and pepper. To finish, carefully place eggs on top.
Note: You can wrap the asparagus with pancetta a day ahead of time and refrigerate until ready to cook.
Adapted from: Canal House