Kale And Hummus Salad
April 30, 2016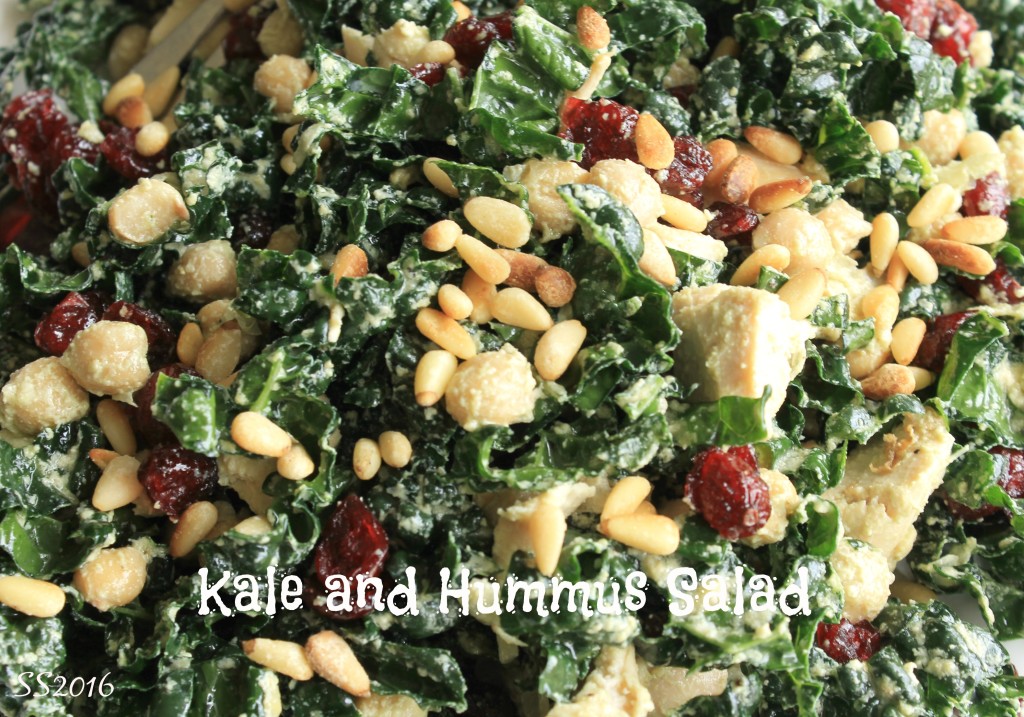 This is not your typical kale salad….it's special. That Dressing!! Have you ever made a dressing with tahini? First time for me too. Tahini, a paste made from ground sesame seeds, adds flavor, texture (similar to peanut butter) and offers many health benefits, including macronutrients and a variety of vitamins and minerals. This hummus-like dressing hugs those sturdy kale leaves and holds up for an unlikely leftover salad. This recipe incorporates chickpeas that ALSO offer a range of health benefits that boost digestion, help to keep blood sugar levels stable, increase protection against disease and much more. This entree is easy, fast and delicious…perfect for a your weeknight dinner, workday lunch or picnic.
Kale And Hummus Salad
Serves 2-4
1/3 cup extra-virgin olive oil
1 clove garlic, smashed
3 tablespoons tahini
3 tablespoons fresh lemon juice, from 1 large lemon
5 cups shredded Tuscan kale (Lacinato), remove the stem and thinly slice
1/2 teaspoon kosher salt
One 15 1/2-ounce can garbanzo beans, drained and rinsed
1 cup shredded rotisserie chicken breast (or more)
1/2 cup dried cranberries
Slivered almonds or pine nuts, optional (But not really!!)
Za'atar to finish, optional
Salt and pepper, to taste
*Pita bread, olive oil and sea salt
Heat a small saute pan over medium heat. Add the olive oil and garlic and cook just until fragrant, 2 minutes. Allow to cool slightly. In a large bowl, whisk together the tahini and lemon juice. Gradually whisk in the garlic oil. Add the kale, salt and chickpeas and gently toss together, bringing the dressing up from the bottom to coat everything evenly. Add the chicken and cranberries, and toss. Salt and pepper to taste. Sprinkle with za'atar if desired. Serve.
*I like to serve this salad with baked pita bread wedges. Slice the pita into wedges and brush both sides with olive oil and sprinkle with sea salt. Bake oil golden in a 350 degree oven. (about 10-15 minutes)
Adapted from: Food Network