Chicken Verde Enchiladas
May 4, 2016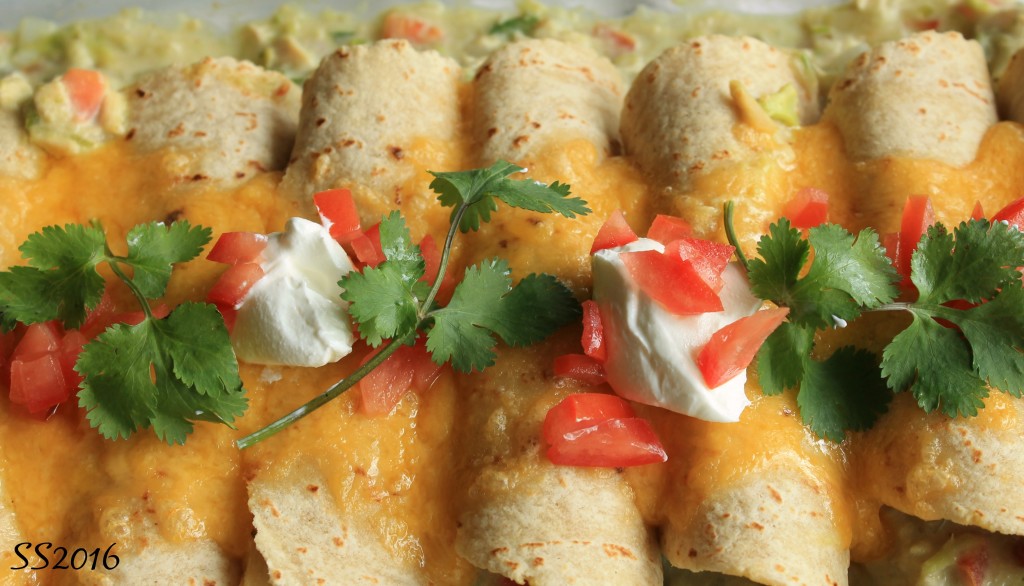 Here's a festive way to celebrate Cinco De Mayo or Tuesday. This recipe pulls together in no time! The first eight ingredients are combined then simmered together for approximately four minutes. The remaining ingredients are then added to the pan. Fill and roll the tortillas, top with shredded cheese, broil to melt…..that's it!  Easy. Healthy. DELICIOUS.
Chicken Verde Enchiladas
Makes 8
3/4 cup pre-chopped onion (I'm an onion lover….but these are not cooked…careful not to add more)
3/4 cup unsalted chicken stock
1/2 cup salsa verde, store-bought
1/3 cup finely chopped cilantro stems
2 tablespoons sliced jalapeño pepper
5 teaspoons all-purpose flour
1/2 teaspoon ground cumin
2 garlic cloves, thinly sliced
8 ounces shredded skinless, boneless rotisserie chicken breast (about 2 cups)
3/4 cup chopped tomato
3 tablespoons reduced-fat sour cream
1 ripe peeled avocado, coarsely mashed
8 (6-inch) corn tortillas
4 ounces reduced-fat sharp cheddar cheese, shaved
2 tablespoons cilantro leaves
Place oven rack in lower third of oven, and preheat broiler to high.
Combine first 8 ingredients in a medium saucepan, stirring with a whisk. Bring to a boil; reduce heat, and simmer 4 minutes. Stir in chicken; cook 1 minute or until heated. Remove from heat. Stir in tomato, sour cream, and avocado.
Stack tortillas; wrap stack in damp paper towels, and microwave at HIGH for 45 seconds. Spoon 1 cup chicken mixture into an 11 x 7-inch glass or ceramic baking dish. Spoon 1/3 cup chicken mixture in center of each tortilla; roll up. Arrange tortillas, seam sides down, in baking dish. Top with cheese. Broil 3 minutes or until cheese melts. Sprinkle with cilantro leaves, dollop of sour cream and chopped tomatoes.
Adapted from: My Recipes