Creamy Piquillo Pepper and Chickpea Soup with Chicken
May 7, 2016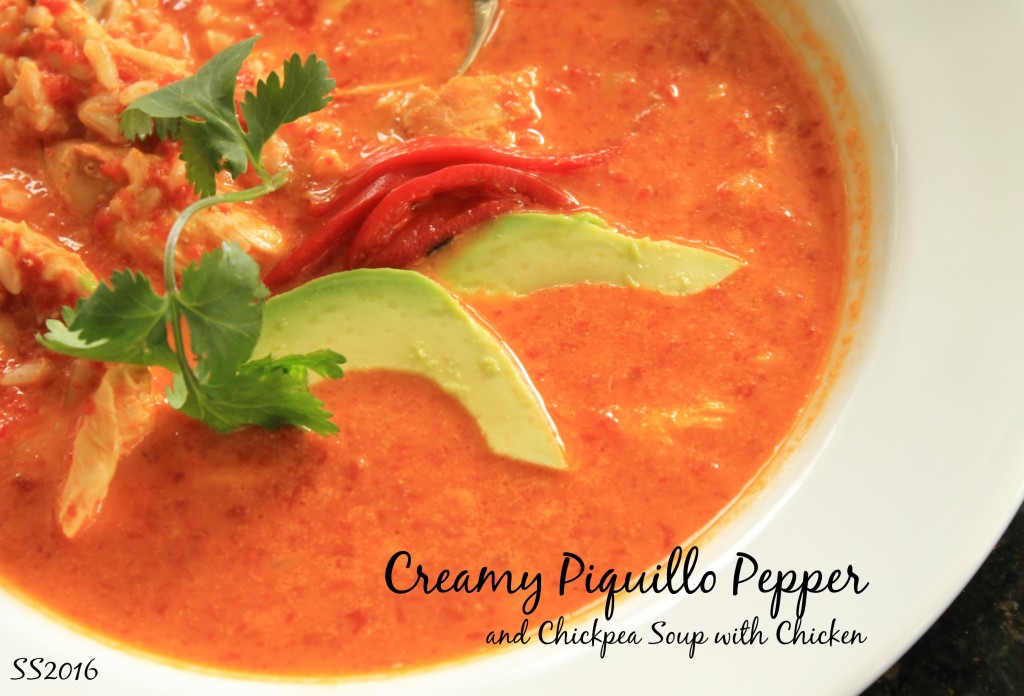 Five ingredients and about 10 minutes. Done. The secret to this delicious soup is the piquillo peppers. Sweet. Smoky.
Incredibly versatile, piquillo peppers come exclusively from Northern Spain.  Their long, triangular shape resembles a birds beak. (Piquillo means beak in Spanish.)  Adding hummus to the soup creates a creamy velvety texture.  Serve with a side salad or cheese quesadillas. Leftovers??  Randy surprised me in the morning with a  fried egg on top of this bowl of YUM!
Creamy Piquillo Pepper and Chickpea Soup with Chicken
Serves 4
1 cup drained piquillo peppers (8 ounces), (1/4 cup cut into thin strips, for garnish) …..a good substitute are jarred roasted red peppers
3/4 cup hummus (7 ounces)
2 cups chicken
1/2 cup cooked white rice, homemade or store-bought (I used brown rice)
1 cup shredded rotisserie chicken
Salt
Freshly ground pepper
Garnish: avocado, cilantro sprigs, olive oil, hot sauce
In a blender or a food processor, combine the whole piquillos with the hummus and stock and puree until smooth. Transfer the soup to a medium saucepan. Add the rice and chicken, season with salt and pepper and bring to a boil. Ladle the soup into bowls and garnish with the sliced piquillos, avocado, sprig of cilantro, olive oil and hot sauce.
Adapted from: Food and Wine