Crispy Salt and Pepper Shrimp
May 14, 2016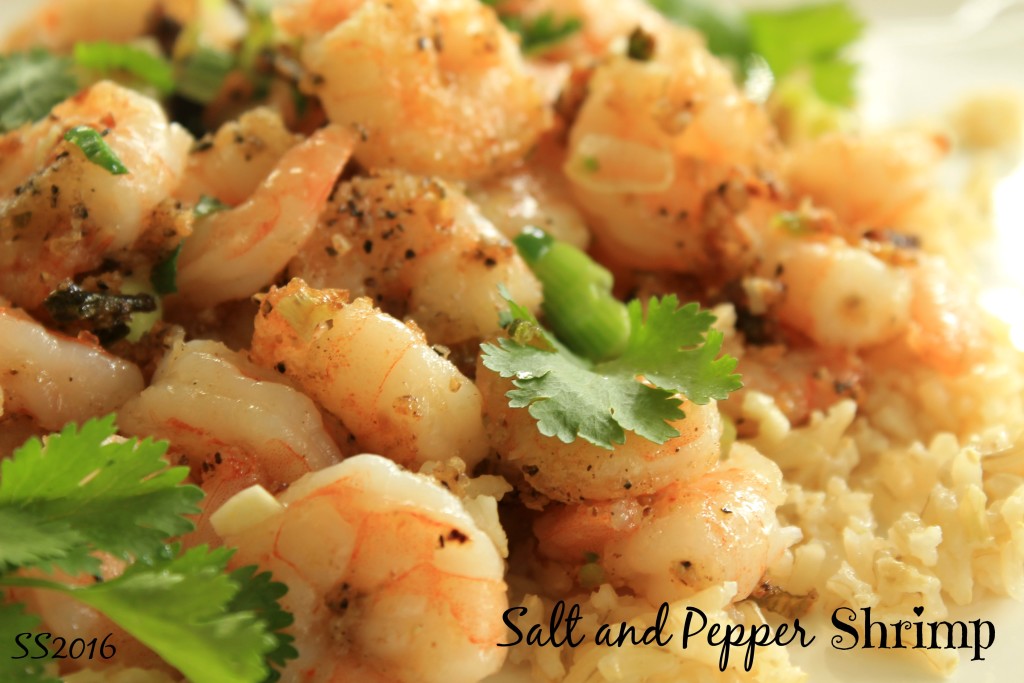 This recipe has been around a long time and I'm finally on the bandwagon. Right in my cooking wheelhouse, it requires just a few ingredients and is ready in 20 minutes. The traditional Cantonese dish uses the whole shrimp in the shell then gets deep-fried. Eating the whole shell is typical…well, not here. I'm using peeled, deveined shrimp that's sparsely coated with cornstarch and quickly sautéed for a healthier version. Fresh black pepper, white pepper, salt, garlic, jalapeño and green onion add the spice. The result….a salty, slightly spicy and crunchy dish you will add to your go-to list.
Crispy Salt and Pepper Shrimp 
Serves 2
1 lb shrimp, peeled and deveined
2 tablespoons cornstarch
1/2 tsp white pepper
1/2 tsp black pepper
1/2 tsp salt
2 tablespoons vegetable oil
2 cloves garlic, minced
1 jalapeño, diced, seeds removed if desired
1-2 stalks green onion, sliced
Grain of choice, to serve
Pat the shrimp dry with paper towels. In bowl, toss the shrimp, cornstarch (helps the shrimp crisp up), white & black pepper and salt together. Heat up a bit of oil in a heavy bottomed skilled over medium heat. Add the garlic, 1/2 of the jalapeños and 1/2 of the green onions. Cook, stirring, until crisp and fragrant, about 1-2 minutes. Add the coated shrimp and cook, until pink and firm, 1-2 minutes per side. Remove from the heat and toss with the remaining jalapeños and green onions. Serve with your of choice of grain. I like brown rice.
Adapted from: I am a Food Blog