Spring Poke Bowl
May 20, 2016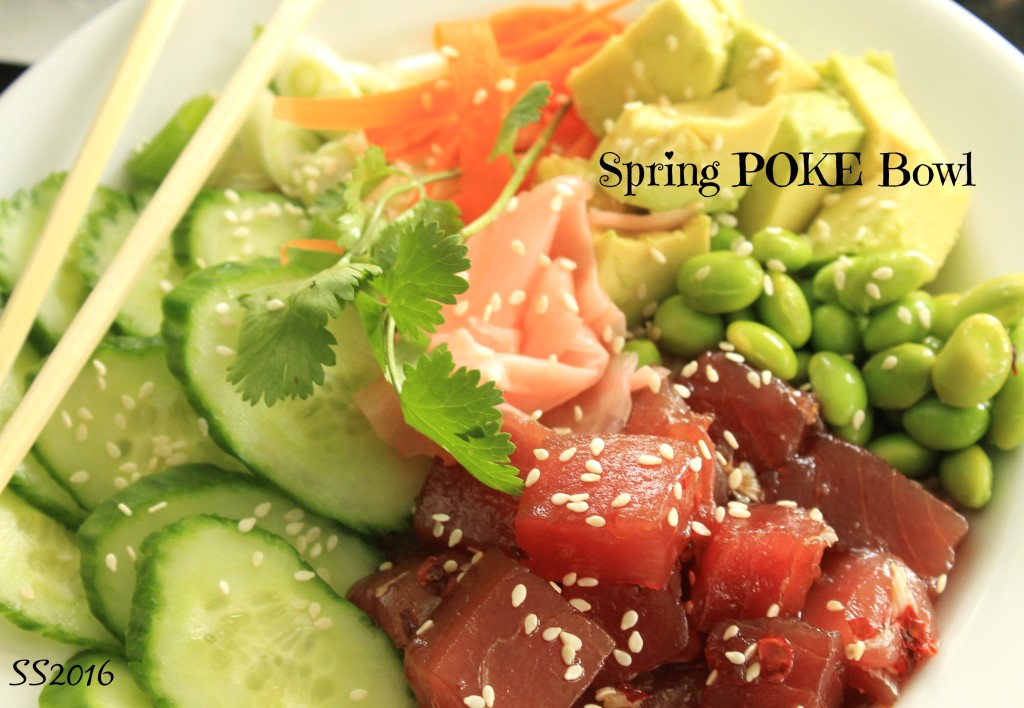 The Poke (POH-keh) bowl is on many 2016 watch lists. It's a  dish I've been enjoying for a few years. Hawaiian Poke simply means "chunk." It originated when fishermen began using the leftover cutoffs from their catch to create a snack which quickly became a staple in the Hawaiian diet. Traditionally, the Poke bowl would consist of a mixture of raw fish, Hawaiian salt, seaweed and chopped nuts. Today this healthy salad features layers of white or brown rice, seaweed, onion and raw fish (ahi-tuna, ahi-salmon, or octopus) marinated in various combinations of Asian sauces and seasonings. Be your own architect when building yours. Think of your favorite sushi roll….then deconstruct it. I rounded out my bowl with avocado, carrots, edamame, cucumbers and ginger.
Spring Poke Bowl
Serves 4
1 1/2 cups short-grain brown rice or white rice
1 1/2 pounds sushi-grade ahi tuna
3 tablespoons low-sodium soy sauce
2 teaspoons toasted sesame oil
1 tablespoon rice wine vinegar
1 teaspoon grated ginger
1 teaspoon minced garlic
Chili paste, optional
2 green onions, white and green parts, thinly sliced
3 carrots, grated
1 bunch radishes, thinly sliced, optional
2 large, ripe avocados
Edamame, handful
English cucumber, thinly sliced
1 bunch cilantro, chopped
Sesame seeds
Cook the rice according to instructions.
Cut the ahi tuna into 1-inch cubes. In a large bowl, whisk together the soy sauce, sesame oil, minced ginger, grated garlic, vinegar, and chili paste, to taste. Add the ahi and green onions and stir gently to combine. This can be done up to 1 hour in advance. Keep chilled.
Just before serving, dice the avocado into small cubes.
Arrange your poke bowl with scoop of rice, add tuna, avocado, grated carrot, cucumbers edamame and sliced radish. Sprinkle sesame seeds on top. Serve with cilantro, ginger and more soy sauce on the side.
Adapted slightly from: Sprouted Kitchen