Roasted Corn Caesar Salad
July 1, 2016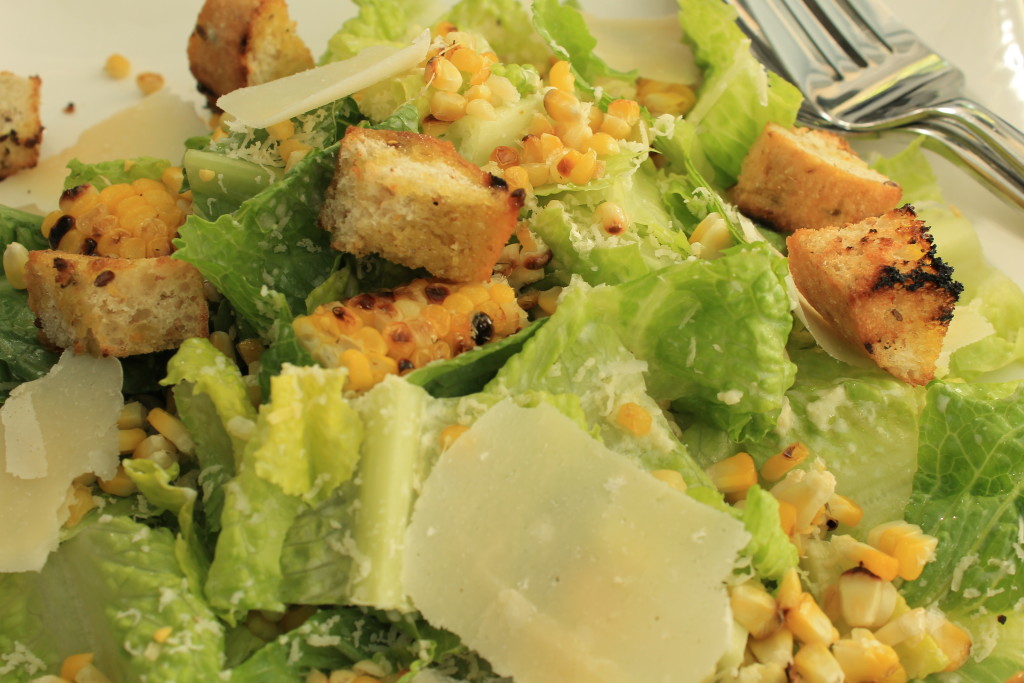 Roasted corn Caesar salad with Parmesan and Greek yogurt dressing is a perfect side to your grilled meats this summer. This dressing (no egg) is special and will be your go-to for all your Caesars. Grilled corn sweetens and adds a smokey flavor to this traditional salad for a seasonal stunner.
Roasted Corn Caesar Salad
Serves 2 (large)
2 ears sweet corn
1 tablespoon olive oil
1 cup whole wheat bread cubes
2 tablespoons brown butter
6 cups chopped romaine lettuce
1/4 teaspoon salt
1/4 teaspoon pepper
1 ounce parmesan cheese, shaved
3 tablespoons finely grated parmesan cheese
Dressing
4 garlic cloves, minced
3 tablespoons Greek yogurt
2 tablespoons parmesan cheese
1 tablespoon Dijon mustard
2 teaspoons red wine vinegar
4 anchovies, minced
1/4 teaspoon salt
1/4 teaspoon pepper
1/2 lemon, juiced
1/2 cup olive oil
Preheat oven to 425 degrees. Brush corn with olive oil and place on a baking sheet. Bake for 20-25 minutes, or until kernels are soft and golden. If you'd like them more charred, you can broil them for 1 to 2 minutes. (Or par boil for a couple of minutes and grill til charred to your liking).  While the corn is roasting, you can also add the bread cubes to a baking sheet and bake them for 8 to 10 minutes, or until they are golden. As soon as removing the croutons from the oven, drizzle them with the brown butter. Cut the corn from the cob.
To make the dressing, add the garlic, yogurt, parmesan, mustard, vinegar, anchovies, lemon juice, salt and pepper to a food processor and blend until pureed. With the processor still on, stream in the olive oil until a creamy dressing forms.
Add the lettuce and corn to a large bowl and sprinkle with salt and pepper. Toss with the dressing, then add the croutons and remaining cheese. Serve!
Slightly adapted from: Food Network