Cherry Clafoutis
July 15, 2016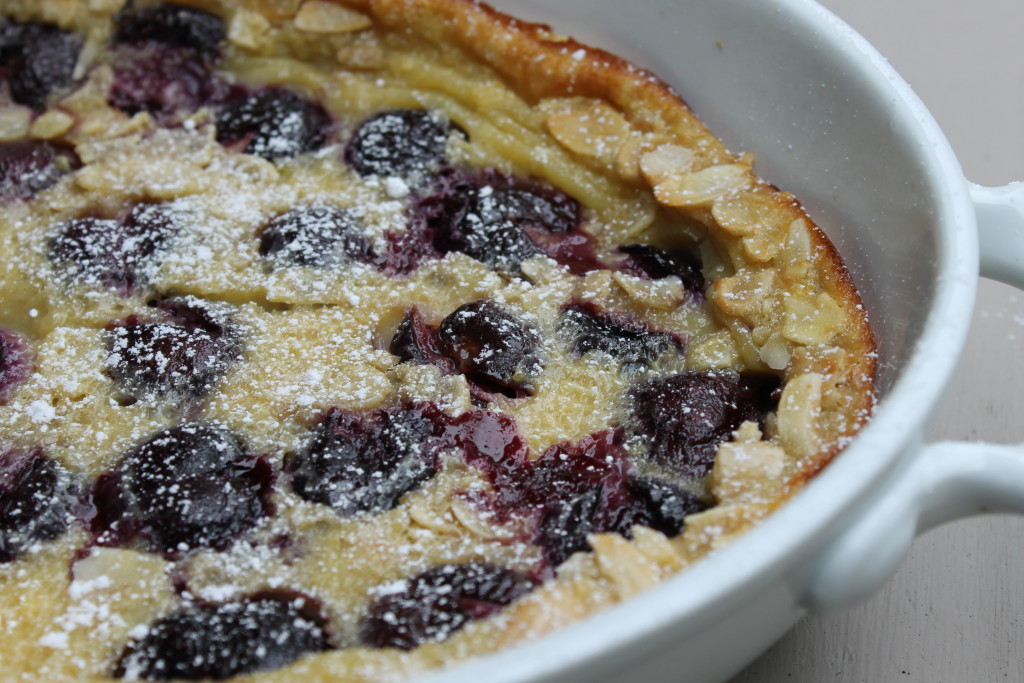 Clafoutis, (kläfo͞oˈtē) is a French dessert made of fruit, typically cherries, baked in a sweet batter. This tart is simple to prepare. Just arrange the cherries in a buttered dish and cover with a thick flan-like batter. Dust the clafoutis with powdered sugar and serve lukewarm. You may want to serve it with cream. You will love the almond cherry combo!! Take advantage of the season…here's another beauty, Rustic Cherry Tart.
Cherry Clafoutis
2 cups of fresh sweet cherries, pitted
2 tablespoons of blanched slivered almonds
3 eggs
3/4 cup of sugar
1 tablespoon of brown sugar
1/2 cup of all-purpose flour
1/8 teaspoon of salt
1 cup of milk (2% or whole milk)
3/4 teaspoon of almond extract (can sub 2 teaspoons of Amaretto)
1 1/2 teaspoons of vanilla extract
Powdered sugar for dusting
Preheat the oven to 350 degrees. Butter and lightly flour a 9X9 or 10X7 baking dish. Scatter the cherries and slivered almonds over the bottom of the dish.
Whisk the eggs and sugars together until smooth. Whisk in te salt and flour until smooth.
Add the milk, almond extract, and vanilla extract. Whisk until smooth. Pour into the baking dish over the cherries and slivered almonds.
Bake for 35-45 minutes or until lightly browned and a tester inserted into the center comes out clean. Check about halfway through the baking and if the top is getting well browned tent it loosely with aluminum foil.
When you pull it put of the oven it will *wiggle a bit which is normal. Place on a wire rack to cool. The clafoutis will have puffed up quite a bit and will deflate while cooling. When cool dust the clafoutis with powdered sugar. Serve.
*Note: the texture of clafoutis is like a sturdy custard, it will feel a bit rubbery and thats what is's suppose to be like.
Adapted from: David Lebovitz