Roasted Vegetable Lasagna
August 21, 2016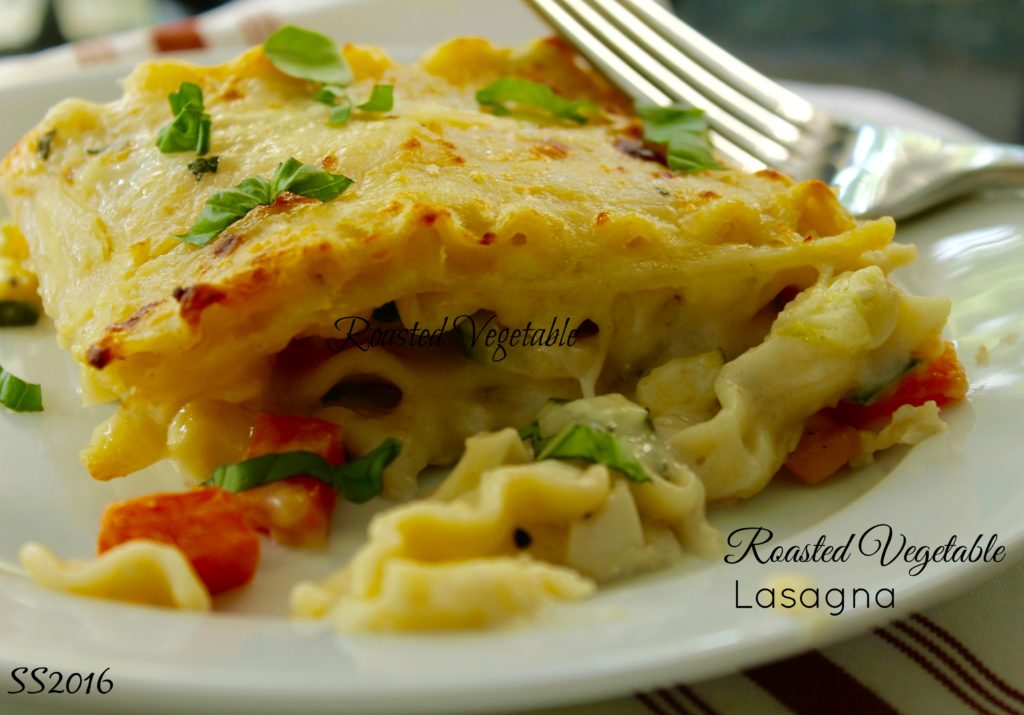 There are those rainy summer days that call for a cozy dinner away from the grill. This is it. This season's harvest is coming to an end and this recipe incorporates all those farm stand favorites. The vegetables are roasted, giving them a rich flavor and the lasagna is assembled with a simple, rich bechamel sauce. Top the lasagna with shredded basil.
Roasted Vegetable Lasagna
Bechamel Sauce
1/2 cup butter
1/2 cup flour
4 cups milk
some grated nutmeg
1/2 tsp ground white pepper
1 chicken bouillon cube (amount that you would dissolve in 1 cup water)
note: if you are using Knorr bouilloncubes, remember they are for 2 cups of water – just cut them in half (so not skip this step…adds a rich layer)
Vegetables to Roast
Any combination of zucchini, yellow squash, carrots, 3 garlic cloves  (chopped up fresh spinach, cherry tomatoes and onion?)
Lasagna noodles for one 13×9 inch baking pan (Don't use no bake)
1 cup grated Parmesan cheese
1 cup shredded mozzarella cheese
Basil, thinly sliced for garnish
For the Bechamel:
In a medium-sized saucepan, melt the butter. Whisk in the flour and cook for just a minute or so. Slowly add the milk and keep whisking. Add the nutmeg, white pepper and bouillon cube and whisk. Cook for a few minutes, whisking, until the bechamel has thickened slightly. Set aside to cool. Stir it once in a while so a skin doesn't form.
For the vegetables:
Chop vegetables. Mince garlic. Combine half the mixed vegetables on a baking sheet pan. Drizzle with olive oil, salt and pepper. Roast for several minutes at 400 degrees. Stir. Roast for several minutes more until vegetables are soft. You can roast a little longer, if you like them to be slightly caramelized. Repeat with remaining vegetables. Set aside to cool slightly.
Cook lasagna noodles for 5 minutes, until soft. Shock in a bowl of ice water, lay on towels to dry.
Cook lasagna noodles for 5 minutes, until soft. Shock in a bowl of ice water, lay on towels to dry.
Spray a 13×9 baking pan cooking spray. Spoon some bechamel thinly on the bottom of the pan. Start with a layer of noodles, a layer of bechamel, some vegetables, and then a layer of a parmesan and mozzarella. Repeat layers until you have 6 layers of noodles. On top of the last layer (no veggies) with  some bechamel and the remaining cheeses. Cover tightly with foil.
Can be refrigerated for a day. When you are ready to bake, bring to room temperature for an hour and then bake for 50 minutes in a 350 degree oven. Remove foil. Bake for a little longer until top is slightly golden. Let sit for 15 minutes before slicing.
Adapted from: The Italian Dish