Herbed Pork Tenderloin with Apple Chutney
September 28, 2016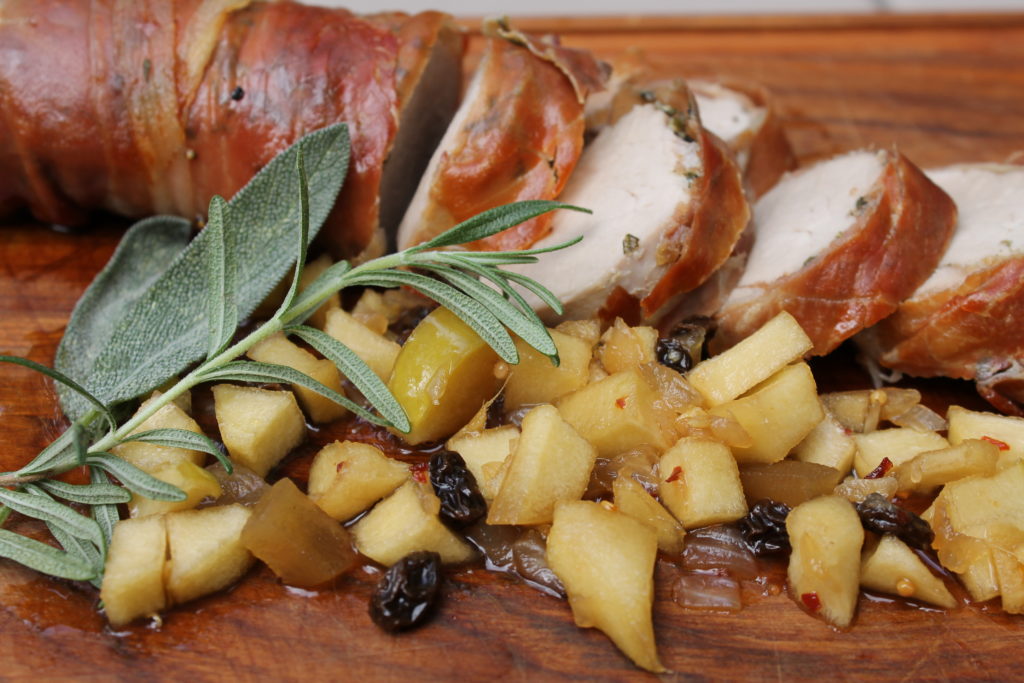 There's a chill in the air, a hint of autumn….roasting season. Time for "pork chops and applesauce!" This recipe highlights how well pork plays with autumnal fruits. I'm using a leaner, flavorful, inexpensive cut of meat…pork tenderloin. The tenderloin cooks quickly, about 20 minutes, which makes it perfect for a weeknight dinner.
The recipe calls for rubbing the loin with herb and then wrapping it with a layer of prosciutto. Adding the apple chutney gives a subtle, sweet, tartness with a bit of a kick (from the ginger) to the savory pork.
Herbed Pork Tenderloin with Apple Chutney
Serves 6-8
2 pork tenderloins (2½ to 3 pounds total)
1 tablespoon minced fresh rosemary leaves
1 tablespoon chopped fresh thyme leaves
Kosher salt and freshly ground black pepper
Good olive oil
10 to 12 slices prosciutto, sliced thin
Apple Chutney (see recipe below)
Preheat the oven to 450 degrees.
Place the tenderloins on a sheet pan and pat them dry with paper towels. Combine the rosemary, thyme, 1 tablespoon salt, and 1 teaspoon pepper in a small bowl. Rub the tenderloins all over with 2 tablespoons of olive oil. Sprinkle all sides with the herb mixture. If there is a thinner "tail," fold it underneath so the tenderloin is an even thickness throughout. Wrap the tenderloins completely with a single layer of prosciutto. Tie in several places with kitchen string to hold the prosciutto and the "tail" in place. (I just tucked the prosciutto tight in place and didn't need to string.)
Roast for 20 to 25 minutes, (start checking at 20…the tenderloin will continue to cook as it rests, I suggest 20 minutes) until an instant-read thermometer inserted in the middle of the end of the tenderloin reads 140 degrees for medium rare and 145 degrees for medium. Cover the tenderloins tightly with aluminum foil and allow to rest at room temperature for 15 minutes. Slice diagonally in thick slices and serve warm with the Apple Chutney.
Apple Chutney
1 tablespoon butter
5 cups apples, peeled and cubed (about 3 apples)
1/4 cup dried cranberries
3 tablespoons brown sugar
3 tablespoons cider vinegar
2 teaspoons minced peeled fresh ginger
¼ teaspoon salt
1/4 teaspoon dry mustard
1/8 teaspoon ground allspice
In a small sauce pan heat butter and add apples. Cook on low for a few minutes. Add all the remaining ingredients and cook til desired doneness. Do not let the apples get too mushy. I like them with texture.